Crime Alerts and Timely Warning Notices  
10/02/17 Timely Warning Sexual Misconduct
Dear Campus Community:
This Timely Warning Bulletin is being issued in compliance with the Jeanne Clery Act and the purpose is to provide preventative information to the campus community to aid members from becoming the victims of a similar crime.
The CSUCI Police Department and the Title IX & Inclusion office are investigating a report of sexual misconduct, including fondling, involving two CSUCI students that occurred between 8:00 p.m. on Wednesday, Sept. 27, 2017, and 5:00 a.m. on Thursday, Sept. 28, 2017.
A female residential student reported that a male non-residential student forcibly kissed her and then forced her to touch his penis without her consent while they were both in her residence in Santa Rosa Village on the CSUCI campus.  Additionally, the female student reported that the male student touched her breasts without her consent.  The two students are reported not to have known one another prior to this incident.
The suspect is described as a white male, 19 years old, 6'0 tall, skinny but muscular, with blonde hair, and tattoos on his right shoulder. 
If you need support as a result of this incident, or have any information about this case, please contact the CI Police Department at 805-437-8444 or the Title IX & Inclusion office at 805-437-3608.  Confidential counseling and support resources are also available with the CSUCI Crisis Advocate at 805-796-4844 and Counseling and Psychological Services at 805-437-2088.
Points of information to reduce your risk of being impacted by a similar incident:
Do not touch another person, including making sexual advances towards them, without their clear, unambiguous affirmative consent for you do to so.
If you feel uncomfortable during any interaction you have with someone, it is always your right to leave the conversation and/or location.
Practice being assertive about your boundaries.
Be active in supporting a safe and respectful community. If you see others engaging in disrespectful or inappropriate actions, speak up and get involved, or contact someone else to assist.
Do not hesitate to call 911 immediately in an emergency or situation that feels like it could become dangerous;
If you feel unsafe on campus at any point, call University Police at 805-437-8444 for a safety escort 24 hours a day, seven days a week.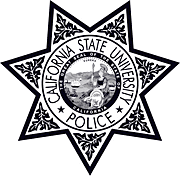 Emergency Dial 911
Non-Emergency: 805-437-8444
Parking Services: 805-437-8430
News & Events