The Science Carnival is sponsored by the CSU Channel Islands science departments under the leadership of Dr. Phil Hampton, Professor of Chemistry. This annual event first started in Fall 2009 with approximately 250 preschool through eighth (PK-8) grade students attending the event. Over 2,700 PK-8 students and their families attended the 2018 Science Carnival.
The event is open to the public and PK-8 students and their families are welcome to attend. The event is held at Rio Vista Middle School, located at 3050 Thames River Drive in Oxnard. There is no admission fee and parking is free at Rio Del Mar School and the public parking lots for the playing fields along E. Vineyard Ave.
Over 120 different science activities will be available for PK-8 students to experience at this event, for example, examining the effect of trajectory and air pressure on the range of a marshmallow shot using an air-powered marshmallow shooter, making your own lotion or perfume, searching for artifacts in a mock archaeological dig, seeing a gummy bear burn in potassium chlorate as part of the "screaming gummy bear" demonstration, standing inside a giant bubble, scan yourself into an action figure, and making glow-in-the-dark slime.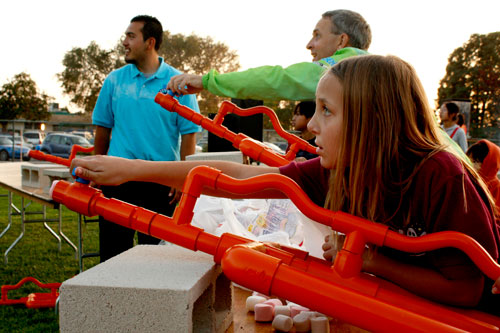 Experience marshmallow shooters at the CSU Channel Islands Science Carnival