Fall 2015 Admissions
CSU Channel Islands will begin to accept applications from freshmen for the fall 2015 term beginning, Wednesday, October 1, 2014- Sunday, November 30, 2014. Students can apply online at www.csumentor.edu.
Please refer to the Freshmen Admission Handout (PDF, 33KB) for information regarding important deadlines and notices.
Steps to Enroll
Apply at www.csumentor.edu.
Take the SAT or ACT no later than December 2014.
Apply for Financial Aid beginning January 1, 2015 - March 2, 2015. Any student who does not apply by the March 2nd will not receive a financial aid award letter for the fall term.
Check your email for an admission decision between December 2014 - April 2015.
If admitted, submit your intent to enroll form and $100 non-refundable deposit no later than May 1, 2015.
Take ELM/EPT Placement exams no later than May 2, 2015.
Submit all documents required by Financial Aid by May 29, 2015. Any student who submits documents after this date may not be processed in time for the fall term.
Register for mandatory Freshmen Island View Orientation no later than May 18, 2015. Students who have submitted their intent to enroll will receive the link to register for Orientation. Orientation fee is $175 and is a required two-day/overnight for admitted freshmen.
Maintain your CSU eligibility by passing classes with a grade of "C" or better.
Upon applying, you must submit the following by to complete your application:
SAT (code: 4128) or ACT (code: 0204) test scores. (If you have yet to take the SAT/ACT, you may take the Dec. exam. However, this is the last exam administration that we will take)
The $55.00 CSU admission application fee (or fee waiver, if approved)
Applicants whose documents have not been received will not be evaluated for the fall term.
You may also need to submit the following documentation:
Mail or deliver transcripts and/or test scores to:
CSU Channel Islands
Enrollment Center, Sage Hall
One University Drive
Camarillo, CA 93012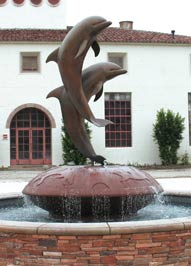 Get up-to-date admissions information...Become a Dolphin VIP!
Create a customized web page, centered around your major and interests
Track your admission status
Receive deadline reminders from Admissions and Financial Aid
Already have a VIP account? Click here to login to your Dolphin VIP page.