EOP News and Information
EOP Gold Cards
Yes, they are here and ready for you. Your new EOP Gold Card will be emailed to you during the first week of the semester. If you do not receive it, please stop by the EOP Center to pick one up. Remember, you must complete the EOP Gold Card by 5:00 p.m. on Thursday, October 31, 2013, to receive priority registration. This means that you get to register for classes for fall 2014 before the entire campus population (including seniors!). Don't miss out on this amazing opportunity that you earn as an EOP student.
If you have any questions about the EOP Gold Card requirements, please contact Leah Alarcon at leah.alarcon@csuci.edu or Kari Moss at kari.moss@csuci.edu.
Your completed EOP Gold Card is due in the EOP Center (Bell Tower 1538) by 5:00 p.m. on Thursday, October 31, 2013, in order to receive priority registration. 
New EOP Students
This summer, we admitted 49 new freshman students to EOP, so if you see new faces in the EOP Center, introduce yourself! Our new EOP students are from the following high schools:
Academic Performance Excellence
Animo Venice Charter High
Arroyo High
Art Theatre Entertainment
Aspire Pacific College Prep
Birmingham Senior High
Bishop Alemany High
Cabrillo High
Canyon High
Carpinteria Senior High
Central City Valley High
Channel Islands High
Early College Academy for Leaders
East Valley Senior High
El Camino Real Senior High
El Monte High
El Segundo High
Environmental Charter
Fresno High
Golden Valley High
Independence High
James A. Garfield Senior High
John H. Francis Polytechnic
Los Angeles International Charter
Merrill F. West High
Moorpark High
New Designs Charter
Notre Dame High
Options for Youth San Bernardino
Oscar De La Hoya Animo Charter
Oxnard High
Pacific High
Rio Mesa
Royal High
San Pasqual High
San Rafael High
Santa Barbara Senior High
Santa Monica High
Santa Paula High
Santee Educational Complex
Sweetwater High
Ulysses S. Grant Senior High
Van Nuys Senior High
Ventura High
West Shores High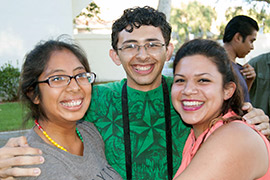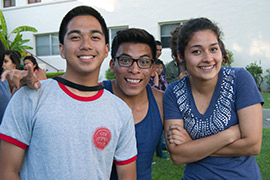 Join EOP on Facebook!
Be sure to join us on Facebook at Csu Channel Islands Eop. This is a great way to keep up-to-date with what is happening at CSU Channel Islands and with EOP. You can also view photos of EOP activities and EOP students.
Meet new friends and reconnect with your fellow EOP students!
Keep checking the EOP website for additional news and information!