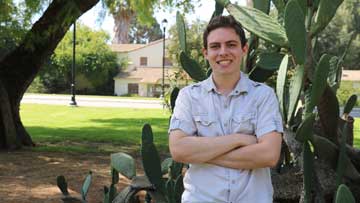 College campus tours are a great way to get to know a university. I really enjoyed visiting potential universities and seeing what every campus had to offer. However, after a few visits, I noticed that each campus had something I did not like. Some had too much traffic, others were too urban, and most were just too big.
When I came to visit CSU Channel Islands, something was different. As I drove onto the campus, I already loved the atmosphere. The campus is beautifully tucked away in the mountains and there is no loud city as your next-door neighbor. The campus has a rich history, unique student clubs, and a diverse student body. All of these factors made it easy for me to choose CSUCI.
Once enrolled as a computer science major, I was pleasantly surprised to find so many opportunities. I jumped on the opportunity to travel to the Kennedy Space Center, in Cape Canaveral Florida where CSUCI competed against other universities in a robotics coding competition. Throughout the semester I worked on modifying code on miniature Mars Rover robots to improve efficiency and the ability to pick up and relocate cubes. This opportunity made me want to pursue a future in robotics or tangible code so that I can witness the fruits of my labor through code.
My decision to attend CSUCI has been affirmed by all of the great friends I have made. Before choosing a university, my biggest fear was not knowing anyone and starting out at a new place. Thanks to the small campus size and student body, I found it extremely easy to meet and converse with so many students on campus. It's a great experience to feel surrounded by people you know and to feel like you belong.
By taking advantage of the plethora of opportunities, my university career has been a great experience. Why should you choose CSUCI? Because this campus is unique and the experiences are endless.