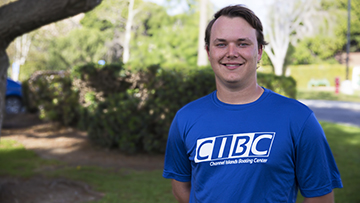 Hello! My name is Nick and I'm from Seal Beach, California. Growing up, if the sun was out and the waves were good, you would always know where to find me – surfing at the beach! Outside of surfing, I was involved in many sports, including baseball, football, and cross-country. I also have a passion for photography, and the vibrant scenery of my hometown inspired me.
Choosing to attend CSU Channel Islands (CSUCI) was easy. I learned all about what CI had to offer during my first visit to campus. With over 70 student organizations, and so many academic opportunities, I knew the university would offer me both athletic and creative outlets. When browsing through college choices, the name - Channel Islands - immediately stuck out to me. When I found out that CI has its own research station on Santa Rosa Island, I thought, "How cool is it that students there get to do research on the actual Channel Islands?" I became interested in learning more about this new university. One of the first major green lights was the small class sizes. I knew I would be able to speak to professors one-on-one, and be treated as a unique student, not just an ID number.
Choosing a major, however, was not as easy of a decision! In high school, I was passionate about many things, but I didn't know what to study to move towards my dream career. In my first year at CI, I enrolled myself in a diverse range of classes to find out firsthand which areas of study appealed to me. I spoke to professors about why they committed to their fields, and I asked my friends why they chose their majors. After all this exposure, and some thoughts on my own goals in life, the consensus was clear: I wanted to pursue a degree in communications and learn how to use words, body language, and media to communicate ideas. It was the perfect blend of science and creativity – and I couldn't wait to get started!
I don't just study all the time, though. I also work at the Channel Islands Boating Center (CIBC), which is located about 30 minutes off campus. I help teach water sports such as kayaking, sailing, and paddleboarding to other students. Sometimes I get the chance to snap a few pictures of the beautiful harbor and beach! My memories working at the CIBC will last me a lifetime, as will the sense of community I get from teaching fellow students.
I am very happy about my decision to attend CI and major in communication. I know that the years I spend here will be filled with experiences and an education that will take me to the next level in my life and career.