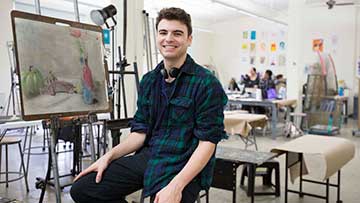 Samuel Hernandez, Art 19'
Why I Chose CI
Hello! My name is Sam and I'm an Art major at Cal State University Channel Islands (CI). When I was in high school, I was an enthusiastic artist working hard to improve my craft. I spent most of my days painting, sketching, and mixing music. When I was looking for a college that would complement my personality, I made sure it had a lively, modern, and creative environment to allow me to grow as an artist. Every university will teach roughly the same kind of classes, but the environment in which students learn really sets the school apart from the others.
When I first visited CI, I was enamored by the beautiful campus framed by peaceful, rolling hills. Camarillo is only 10 minutes away from some of the most serene beaches I have ever visited. The school itself is surrounded by hills that offer excellent hiking and camping. As an aspiring artist, I can't think of anything better than painting a perfect sunset on a beach you have all to yourself!
After admissions decisions were released, I chose CI because of its beautiful setting and its creative, relaxing environment. It proved to be a home away from home. My love for art and design helped me to land a job on campus, and the courses at CI have allowed me to expand my artistic skillset to include digital graphic design and computer programming. In just one year at CI I've created charcoal drawings, videos using the cameras for rent at the library, and tons of pastel and ink sketches. The opportunities are endless . . . what will you create at CI?
Read more testimonies