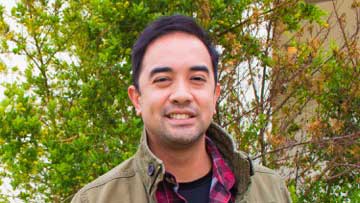 My name is Andrew and I am a Communication Major with an emphasis in Business and Nonprofit.
 I chose to attend CSU Channel Islands (CI) primarily because it was close to home. A native of Camarillo, CI seemed like the best fit for my needs; a place to finish the degree I never finished before.
When I arrived at CI, I wanted to just get all of my coursework done and get out of school as soon as I possibly could. However, the more time I spent at CI , the more I found myself engrossed in the waves of learning that I had initially tried to avoid. I found a renewed sense of learning with professors that genuinely cared about the students and a student body that was welcoming of someone who was a tad older than them!
I soon found myself going to campus and student events. I discovered many student clubs that I enjoyed. I joined Shotokan Karate and Kilusan Pilipino (the Filipino club on campus). I made friends at CI that I was unable to make in other places. I even ended up with a job on campus that I love!
 My time at CSU Channel Islands has been a blessing, and I'm thankful to have had the opportunity to finish what was started years before. This school has truly changed my life, and I am confident that you will not regret coming here!