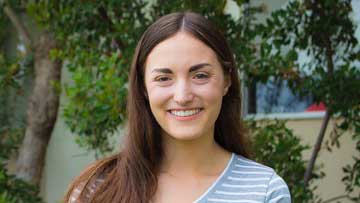 My name is Veronica. I am an Early Childhood Studies Major with a minor in Developmental Psychology. I am from Laguna Beach, California. I am so happy that I chose to study at CSU Channel Islands (CI). Let me tell you why…
I am from a town where everyone knows everyone. Most of my friends wanted to take a big leap from our small high school to a larger university where the average class size is 50 to 60 students. I was different. I wanted a more personal college experience, where access to my professors was part of my studies. When I found out that CI has an average class size of 19-24 students, I knew it was the school for me. 
When I visited the campus, I automatically fell in love with how beautiful it was. I visited on a regular school day, which gave me a chance to see exactly what life was like on the campus. I saw students sitting on the lawns, walking to class, going to dorms and just hanging out. CI seemed like a nice place to spend my next four years. Plus, the beautiful campus and ocean breeze reminded me of the place where I grew up!
A few weeks after my visit, I came back for a campus preview day. This day allows prospective students to tour the campus, visit student housing and attend an information session about their major. The Campus Preview Day gave me the chance to meet some of my professors and gain insight into how my classes would be. The professors were so nice. They told me it is part of their mission to make students feel at home at CI. This put all of my nerves at ease. 
I realized that at CI I wouldn't be just another number, but I would be known for who I am.  I am so happy that I chose to study at this beautiful campus and to make CI my home for the next few years. That is how I went from the OC to CI.