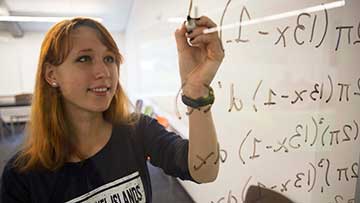 My high school experience was as tranquil as can be. I never had to fight a bully, show up late to an algebra exam, or get rejected by a dream prom date. Then again, I was homeschooled.
For me, high school involved a lot of travel, sports, and hobbies. Because of my flexible schedule, I could go to museums in Spain, or spend most of the day building video game assets in 3D. My interests for computer science gradually evolved as I realized that learning to program gave me the freedom to automate common tasks, or make fun games for my friends. As I approached my final year of high school, however, I was faced with the task of figuring out where I wanted to go for college.
My parents were Polish immigrants who firmly believed that I should stay as close to home as possible, for perhaps the entire duration of my life. So I did the reasonable thing and applied to the only four-year university in Ventura County: CSU Channel Islands. I dreamt of graduating with little to no student debt, with a degree that actually meant something to myself and my future employers, at a gorgeous university with small class sizes. CSUCI fulfilled all of those dreams, and more.
I chose to major in Computer Science at CSUCI because the professors here are legends. Rigorously trained in the toughest of conditions, most of them have seen the days of punch card arithmetic evolve into the high-tech world of advanced programming we have today. All of the professors at CSUCI expect a lot out of their students, but by the end of the semester you'll see how much you really grew as a student, and it will all be worth the effort.
So why choose CSUCI? The class sizes are small, the beach is close, and the tuition isn't heartbreaking. I wouldn't go anywhere else!