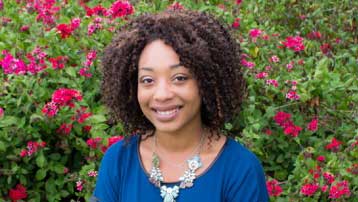 My name is Shania and I am a Biology Major. I grew up in a small city in Orange County, called Cypress. When I was in high school, I wanted to go to a school where there was going to be a sea of people, a sea of activities, and a sea of things to look at! Little did I know, I was also asking for a sea of confusion and to being lost at sea!
I knew I didn't want to go anywhere near home like CSULB or CSUF because I felt like it would be just like high school in terms of the people I would most likely see. I wanted something new. I was ready to commit to Arizona State University... but I am so happy I didn't.
I came to CSU Channel Islands for the annual Campus Preview Day and I absolutely fell in love with the campus! Everyone was so kind, the campus was beautiful, and it was just the right size. I couldn't get over how different it was from what I thought I had wanted.  I knew that my college experience at CSUCI would be different than at a campus filled with tens of thousands students.
I knew that I would have opportunities here that wouldn't be offered to me at a larger university. I also knew that I would be able to have relationships with my professors and really immerse myself in my studies. Now that I'm here, I am happy to say I was right! 
This campus doesn't have the football stadium full of thousands of fans, or the street lined with Greek life. What we do have is an opportunity to study what you love in a great environment and the means to make lasting memories. It also doesn't hurt that the beach is 10 minutes away either!
At the end of the day, I'd much rather be able to go to the beach after office hours with my professor than go to the stadium after being in a lecture hall of 200 students. After I chose to attend CSUCI, I  realized that the "sea" I was looking for was really the sea breeze I get on campus every day at CSUCI!