CSUCI offeres study in Germany through the CSU International Programs, a state-wide program exclusively for the CSU System. The program is affilated with State of Baden-Württemberg in southwest Germany, which therefore offers many different options in universities. While many students stay at Universität Tübingen, the main campus, those with a higher level of German may choose to travel elsewhere.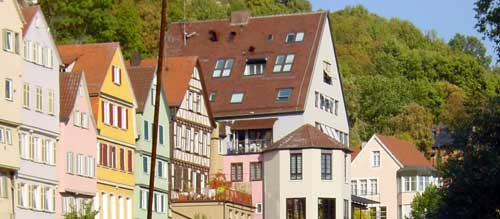 Host Institutions
Pädagogische Hochschule Freiburg
Hochschule Furtwangen
Universität Heidelberg
Pädagogische Hochschule Ludwigsburg
Universität Mannheim
Berufsakademie Mosbach
Hochschule Nürtingen
Hochschule Reutlingen
Hochschule Rottenburg
Universität Stuttgart
Berufsakademie Stuttgart
Hochschule der Medien, Stuttgart
Akademie der Bildenden Künste, Stuttgart
Hochschule für Musik, Trossingen
Universität Tübingen
Universität Ulm
Majors Offered
For a list of Majors offered, please visit the CSU International Programs Majors listing at http://calstate.edu/ip/programs/majors.shtml
Requirements
2.75 GPA
1 semester of college German. (More recommended, and more is required for the Intermediate(2-4 semesters) and Advanced(5+ semesters) programs)
Music students are required to submit an audio recording containing two recent recordings of at least two contrasting works. Composition students must submit a completed recent original score. These are due February 1 to OIP and will be evaluated by the Hochschule für Musik to determine admissions eligibility. Students initially recommended by IP must subsequently be accepted by the Hochschule für Musik in Germany. Decisions rely heavily on the audition tape submitted and therefore students are advised to submit a professional quality recording.
Completion of all lower division requirements
Completion of 60 or more units of courses
For more detailed information on the program in Germany, visit the CSU International Programs website at http://www.calstate.edu/ip/.
---
Zeppelin University
CSUCI Offers single-semester study at Zeppelin University in Germany. Zeppelin is located on the shores of Lake Constance, which is in the southern part of the country.

Programs offered
Corporate Management & Economics/ Business/ Economics/ Management
Communication & Cultural Management/ Sociology/ Cultural Studies
Public Management & Governance/ Political Science
For more information on the exchange program with Zeppelin, contact the Center for International Affairs.