The park is open from dawn to dusk daily.
Parking is available just outside the main gate. Beginning June 2012, the University will open the gate at dawn and close the gate at dusk. Simultaneous with the daily opening and closing of the main gate, a parking program will be implemented. There is an informational kiosk at the main gate with the park rules and regulations and a map of the park. Roads inside the park are dirt and gravel. It is recommended that closed-toed walking, hiking or running shoes are worn while visiting. There is no drinking water in the park and there are no restrooms, benches or tables.
Be safe! Recommendations while visiting this open space --- keep on the lookout for wildlife as well as what other park visitors are doing. Stay on main roads and trails. Protect yourself from the elements, visit with a buddy, and carry drinking water.
Flying Gliders In the Park
Non-motorized gliders weighing 2 pounds or less may be flown at the C.I. Park Airfield. University Model Glider Permits are required, and gliders must be operated within the designated fly zone.
Permit Application and Rules and Regulations (PDF, 346KB)
Enjoy Your Visit!
If assistance from our CI Police Department needed, please call 805-437-8444 or 911.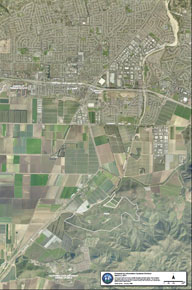 High-res PDF of the Park map (PDF, 2.5MB)