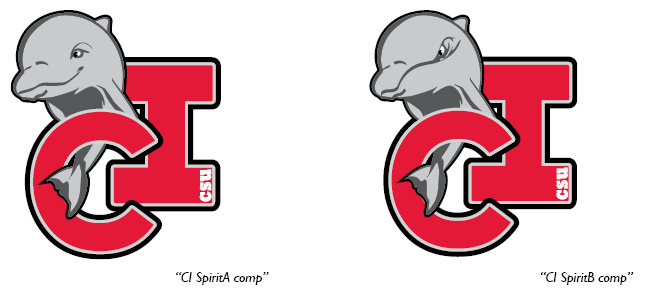 As the official mascot of the University, the dolphin has a rich and meaningful history. The land of the University was originally inhabited by the Chumash. The dolphin is an important symbol in the folklore of the Chumash, including the rainbow bridge legend which tells of their migration from Santa Cruz Island to the mainland. The Chumash elders requested that the dolphin be selected as the University's first mascot, a request that was simultaneously made in petition by student leadership.
The CI Spirit Logos were designed in 2009 by an alum to be used on apparel and promotional items as well as occasions of celebration and competition at CSUCI. In the original version ("CI SpiritB comp"), the dolphin has a grimacing/determined look. In a second version, the dolphin has a smile. Each version conveys a different message but both portray pride of affiliation with the University.
The CI Spirit Logos feature the official mascot of the University and uses bold "CI" letters to enhance an already familiar way to reference the campus as CSUCI. It should not be used in place of the Formal Logo.
Spirit Logo files available on the University network Public drive (z) > logos > SPIRIT LOGO folder
Use of CI Spirit Logos
The CI Spirit Logos are reserved for more casual, student-focused communication materials, signage, events, apparel and mementos associated with the University. There is a growing number of student clubs and organizations forming on the campus and the University supports student engagement within CSUCI. These include student sports clubs, academic, political and social clubs, special interest groups, etc.
There are two types of clubs/organizations on the CSUCI campus: recognized and registered.
Recognized: Membership is open to any registered student. This club/organization does not limit its membership based on gender, GPA, political affiliation, or any other criteria and does not require dues. These clubs/organizations can choose either form of the logo – determined (version A) or smiling (version B).


Registered: Typically there is a restrictive clause in the membership. Registered clubs/organizations may limit their membership based on gender, GPA (beyond the minimum requirement of 2.0 or above for general members and 2.5 or above for officers), political affiliation or other criteria and/or require dues. These clubs/organizations are not eligible to use University logos since they may have an agenda that is or is not in line with CSUCI or the CSU.
University areas or programs may use either one of the CI Spirit Logos on promotional materials to be used primarily on campus. This may include printed materials or apparel but does not include University Stationery.
Color Variations
Variations of the CI Spirit Logos are provided in five color types:
Composite - Varying shades of grey dolphin, Pantone Matching System (PMS) 186 Red CI and white CSU.
Black and White (BW) - Black outlined dolphin, CI lettering and black CSU.
PMS 186 Red - Outlined dolphin, CI lettering and CSU.
PMS Cool Grey 11 or PMS 877 Metallic Silver - Outlined dolphin, CI lettering and CSU.
Reversed - White outlined dolphin, white CI lettering and knocked-out CSU.
Clear Space
It is also important to maintain an area free of other designs, patterns, and text - behind and in front of the graphic - that would detract focus from the University graphic elements. This area should be a minimum of 1/4 of an inch on all sides of any graphic elements when used at a small size.
(The dashed box represents the clear area and is not part of the design)