The CI Conferences & Events office aims to be a one-stop-shop for customers to receive high quality service for their event needs.
Approved Vendors
CI Conferences & Events office has information on the highest quality vendors in Ventura County to provide additional services not provided by the campus. Items from these vendors can be reserved through your CI Event Specialist and can be included in the invoice you receive from the university for your event.
Catering
University Auxiliary Services, Inc. Hospitality Services is the exclusive provider of catering for California State University Channel Islands. They offer a wide variety of catering options for your event.
Internal Client Catering Menu (PDF, 1.64MB)
Wedding & Special Event Menu (PDF, 720KB)
Catering can also be provided by University Auxiliary Services, Inc. approved restaurants in the Town Center which include Tortilla's Grill & Cantina, Pizza 3.14, and Sitar. Visit University Glen Town Center for more information.
Equipment
CI offers a variety of equipment available for your event. Basic set-ups are counted in the cost of your event including in-stock tables and chairs. A list of additional available equipment and services provided by CI is available. Looking for something that is not on our equipment and services list? Don't worry, CI has a list of approved vendors that are sure to have what you are looking for.
Available Equipment & Fees (pending)
Available Services & Fees (pending)
Food Trucks
Food Trucks on campus are approved and regulated through the University Auxiliary Services, Inc.. Food Trucks can be requested through the 25Live scheduling system for internal clients or by contacting Roxanne Herlien at roxanne.herlien@csuci.edu. Requests for new food trucks on campus must be submitted no less than 45 days prior to your event to allow University Auxiliary Services, Inc. to contact the vendor to complete all necessary paperwork and insurance requirements. When selecting a food truck from the Approved Vendor List, please make note of which vendor you will be using for your event when submitting your 25Live request.
Approved Food Truck Vendors (PDF, 194KB)
Housing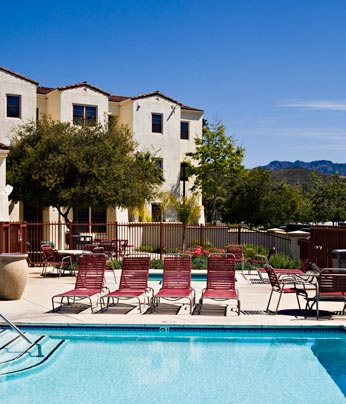 CI on campus housing for conferences and special events is available June - August.
Santa Cruz Village offers two-bedroom, one-bath furnished suites shared by four students. Each furnished suite has cable TV access and the facility offers wireless Internet access. A limited number of single occupancy suites are available.
Anacapa Village Apartments are shared by four people and offer a nicely appointed living room, dining room and kitchen in addition to the four bedrooms and two bathrooms.
School year accommodations are available through local hotels a short distance from the campus. CI Event Specialists can work with you to determine your housing needs and negotiate rates for your event.
Parking
Daily parking permits may be purchased from permit dispensers located in Lots A1, A2, A3, A4, the lobby of the PSD, or through your Event Specialist with you reservation. Permits are valid only on the date of purchase. The cost of the daily permit is $6.00. The dispensers will accept coins; and $1, $5, and $10 bills; and give change in one dollar coins. All permit and parking regulations are enforced seven days a week, 24 hours a day. Vehicles parked on campus are required to have a parking permit. There is a one week grace period; after that, cars without permits will be cited.