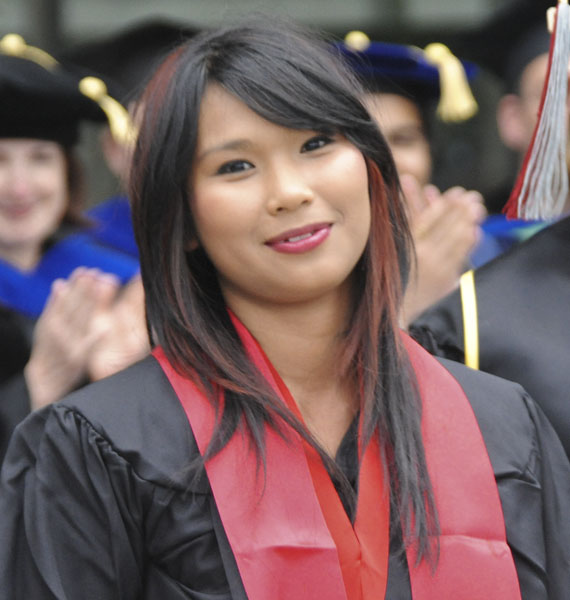 As a CI student, Melody (Mattingly) Kimball ('09) was known as a President's Scholar and an active member of the Student Programming Board. What most didn't know was that she was homeless.
Raised in a small Midwestern town where it was common for children to work alongside their parents, Kimball worked in residential construction at age nine and then spent years helping with her folks' janitorial jobs.
At 17, she moved to Oxnard with her mom, sister and brother. All they could afford was a single room in an already crowded house, and Kimball (an honors student) took on two part-time jobs to help make ends meet.
Often hungry, she frequented a local church that provided meals. She returned the kindness by volunteering and serving as a youth mentor.
Meanwhile, it became evident that the household environment was unsafe for young women. Now 18, and still in high school, Kimball left and took her younger sister with her.
They lived with a friend for about a year and a half, but the house ended up in foreclosure.
"Couch surfing at church members' homes and sleeping in my car became a way of life during my freshman year of college," says Kimball. "I worked and collected recyclables for gas money, but I couldn't bring in enough income to get by on my own."
Concerned about keeping her grades on par as a President's Scholar and others knowing of her homeless status, she strove to keep her burden private.
"The only time I voluntarily revealed it at CI was in one-on-one conversations when I saw another student in need," she says. "When you're struggling, you recognize other sufferers. I wanted to help."
Kimball's lowest point occurred in the spring of her junior year. She had tried to better her situation by enrolling in a military program that offered a stipend, but a knee injury negated her eligibility.
"I not only missed out on the funding and learning experience, I also could no longer work as a security guard or drive my stick-shift car," she says. "A month later I found out I had failed a class, jeopardizing future scholarship funds. I felt like a failure."
Kimball stayed late at CI that night worrying.
"I just sat there in tears," she says. "I figured this was the end."
Although the campus was nearly empty by now, another student noticed her and approached.
"He shared that he had struggled in the past, and he said that I belonged here...that I was meant to get my degree," she says. "That validation meant the world. It gave me hope."
Her last few semesters were the hardest, but Kimball persevered. She ended up receiving enough scholarship money to finish at CI and served as President of the Student Programming Board her senior year. After graduation, she landed a good civilian job at Naval Base Ventura County Port Hueneme and then achieved another personal milestone, renting a room of her own.
Today, Kimball is financially secure, married and joyfully living in a townhouse with her husband and two cherished rescue pets. The couple is taking steps to launch a business and started attending Camarillo Chamber of Commerce meetings last fall.
At the December chamber meeting, Kimball, now 30, made a sudden decision to share her story publicly for the first time.
"I knew representatives from CI were going to present that morning, but I didn't know the details," she says. "When I heard about the student emergency fund effort, I knew I had to speak up. By the time I was done we were all in tears."
Kimball, who has continued to speak, notes that much of the feedback she's received since is about her bravery.
"The comments are so kind, but this isn't about me," she says. "It's about those who are struggling now – the ones who haven't eaten today, who wonder where they'll sleep tonight, or who are starting to falter under the snowball effect of burden, shame, family dysfunction and fear. Without help, many will drop out."
Kimball stresses that it's important for those in a helping capacity to proactively put resources in place and make them easy and confidential to access. She notes that programs must strive to help students maintain their dignity and to convey that this is a "hand up," not a "hand out."
"It's hard to ask for help," she adds. "When you struggle like this, your self-esteem takes a huge hit, and if you need long-term assistance you worry about wearing out your welcome or letting people down."
First-generation college students face additional burden, says Kimball.
"I was a bright kid, and everyone – including me – expected me to go to college," she says. "I had already seen that minimum wage wasn't a living wage, and I knew I wanted a better life for myself and my family. There's a lot of self-imposed pressure."
Virtually silent for more than a decade about her own challenges, Kimball says she hopes coming forward will significantly multiply her own efforts to give back.  
"I greatly appreciate this community and do whatever I can to help it prosper.  I also see a tremendous potential in today's CI students, many of whom will far surpass what I ever thought possible for myself in a lifetime.  There's a wonderful congruence of cause here.  A high percentage of CI graduates remain in the community after graduation.  The support that flows to them will flow back from them."