What is Open Enrollment?
Open Enrollment is your annual opportunity to review and change your current benefits for the upcoming year. This year, the CSU Annual Open Enrollment period took place from September 10, 2018 - October 5, 2018. The effective date for all changes that were made during the Open Enrollment period will be January 1, 2019.
Links to Important Documents
General Information & Worksheet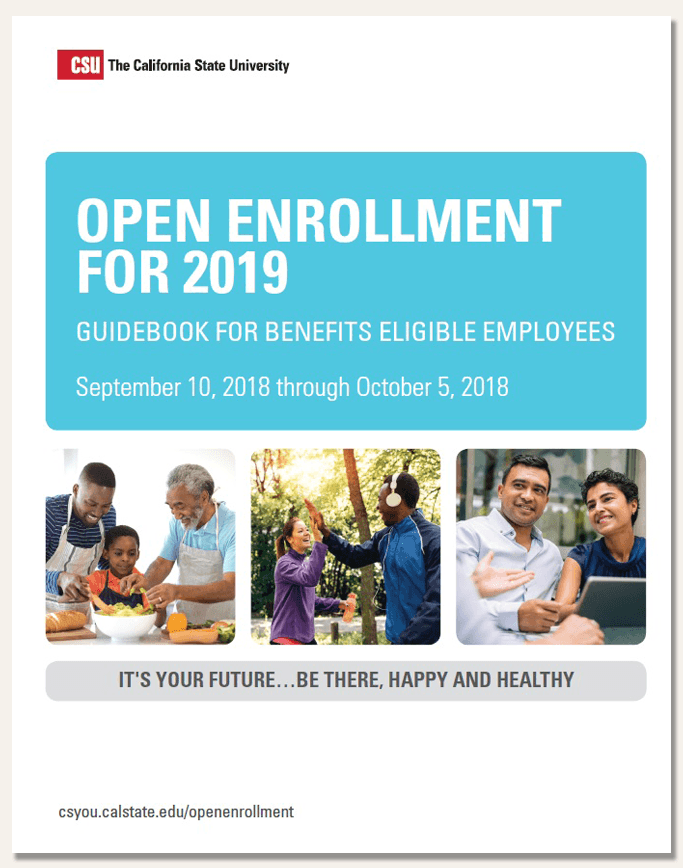 Health Benefit Information
Dental Benefit Information
Vision Benefit Information
Flexible Spending Information
What's Changing for 2019?
Health plan premiums have changed.

Please review the 2019 Health Rate Sheet (PDF, 161KB).

PERS Select Basic PPO Plan has adopted a value-based insurance design.

The new PERS Select plan will change co-pays for primary care, specialists, and urgent care; award credits to reduce your annual deductible; eliminate hospital tiering, so you can access any hospital in your network at one coinsurance rate; eliminate coinsurance for inpatient delivery, after enrollment in the Healthy Moms program. Check out the CalPERS 2019 Health Benefit Summary (PDF, 939KB) for more information on the PERS Select Basic PPO Plan.

Delta Dental PPO Plan Enhancements. 

Diagnostic and preventative services performed by a PPO dentist (like cleanings and exams) will not count against your annual maximum. Also, employees with certain qualifying diagnosed medical conditions (diabetes, heart disease, HIV/AIDS, rheumatoid arthritis or stroke) are offered expanded coverage such as one periodontal scaling and root planning procedure per quadrant per calendar year covered at 100%.