University owned Windows computers must be kept up to date with the current Microsoft Windows operating system. Please be advised that in partnership with our Information Technology department users should take steps to ensure that they are using the most current version of Windows.
How to Check
Go to your start menu and type: "winver"
This should bring up a dialog box that displays your current Windows version. Supported versions at this time are 1909, 2004, and 20H2. If you see any other version displayed, it is time to update.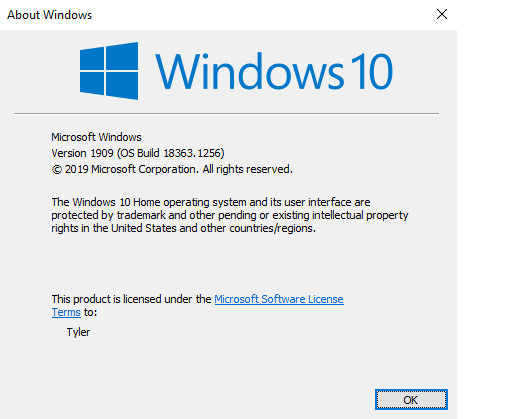 How to Update
Your computer must be physically on campus or connected to the CI network through VPN in order to update through our campus software distribution portal: Software Center.
To get to the Software Center:
Click on the Windows Start Menu
Search for "Software Center"
Click on Operating Systems
Double-click on the most recent Windows version, currently titled "Upgrade to Windows 10 Ent 20H2 x64"
Part of the update will run in the background (you can continue working on your computer) and that process could take from 1 to 3 hours, depending on the performance of your system. The second part of the update will require that you reboot your computer. This could take 10 - 60 minutes where you will be unable to use your computer.
Please help keep your system and other devices on our network up-to-date and current by performing and accepting feature updates. This is an important part of our overall IT security strategy to reduce opportunities for system compromises and failures.
Questions?
If you have further questions or concerns regarding feature updates, please feel free to submit an ITS Service Request or contact the Shared Services Solution Center at 805-437-8552.