The Secret of His Success – Brandon Blake '05
By Lori Putnam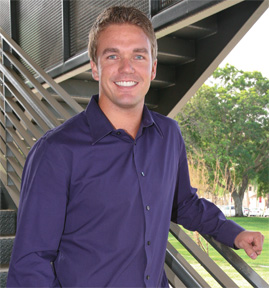 Not many of us can claim success networking at the local drugstore, but CI alumnus Brandon Blake can. Blake, who earned his B.S. in Business in 2005, takes a genuine interest in other people and their passions. And it was this interest that led him to his future boss, health care executive Joseph Gentile, while waiting in line at the local Rite Aid. As Blake tells it, the conversation actually began while he was a student working part-time at a Thousand Oaks bank where Gentile was a customer.
"I've always been interested in what other people did, always looking for guidance from other people," recounts Blake. "I met Joseph Gentile as he was starting his company, and I asked him how the business model worked." A year later, Blake and Gentile would meet again at a Rite Aid store in Thousand Oaks. "I turned around and saw him in line. We ended up talking about work and he asked if I would be interested in a career change."
That career change was the opportunity to be one of the first employees of Cannon Cost Solutions, a health care cost containment start-up that helps identify and recover overpayments in health care claims. Now known as AfterMath Claim Science, the company has grown to nearly 50 employees with two offices nationwide. Blake oversees the West Coast office as the company's operations manager.
Much like his decision to attend a new university, Blake saw the start-up as an opportunity to be part of something from the ground up. "Just like Channel Islands, there was so much to do. I was constantly wearing multiple hats in order to help get the company where it needed to be."
Today Blake shares his own experiences with the next generation of future entrepreneurs, and recently addressed high school student leaders alongside his mentor Gentile. "My experiences in education and business have heightened my leadership skills, and given me the confidence to succeed," remarks Blake.
His advice to recent CI graduates who may be struggling in this economy is to create a vision for themselves, and never lose sight of their passions. He believes success will follow. Blake's own passions outside of work include surfing, running endurance races, and starting a new life with his wife of one year, Jillian Mae. He plans to participate in the Los Angeles marathon next spring. Finishing a race is much like leading in business for Blake. As he points out, both require setting goals. Looking ahead, Blake can picture a time where he may start his own company. Until then, he's enjoying his run.