Creative Mind – Taylor Marta '07
By Lori Putnam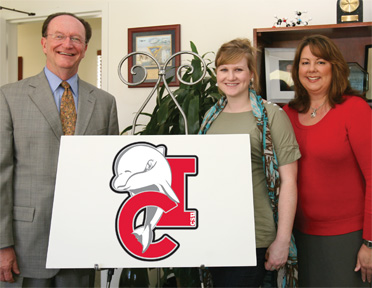 Among the many new faces at this year's Welcome to CI event was the University's own mascot. The dolphin, a fixture on everything from t-shirts to table top signs, received a new look via a University-wide design contest. The winning design belonged to the creative mind, and hand, of alumna Taylor Marta.
"I recently moved to Northern California when I received an email from one of my professors regarding the contest," remembers Marta, who earned her B.A. degree in Studio Art with a certificate in Digital Media Art in 2007. "I had been out of school for a few years, so I thought this was a great opportunity to reconnect."
Open to both students and alumni, the design contest garnered more than 150 design submissions.
Marta was thrilled when she heard her design had been chosen as the University's 'CI Spirit' logo. She wanted to ensure the new logo was creative yet kept the dolphin—a large part of the CI student identity—intact. She says, "I was designing the logo for students just like myself. I never would have submitted anything I wouldn't want to wear."
Marta works as a freelance designer in her home town of Yuba City. Although she initially returned home to help her family while her father received cancer treatment, she has found new outlets for her creativity. "Since I came back, I've touched base with others in the design industry, and discovered so much opportunity in this small community. This is my home. If I want my home to be great, the people that are great need to stay."
Marta has been part of a creative drive to launch a community-based magazine for the area, and has contributed to the city's 'shop local' campaign to help drive local business. The Chamber of Commerce and City of Yuba have generated $100,000 to start the program. "I'm having a good time here," she adds. "What I loved about my time at Channel Islands, contributing to a small community, is now what I'm doing here at home."
You can also find Marta participating in community theater. In fact, she's a self-proclaimed theater kid who was planning on majoring in music theater performance. Although she changed her major to art and design, she still has a passion for the stage. Her senior year, her efforts were recognized by CI when she received the "Creativity Dimension" award presented at O.L.A.S (Organization and Leadership Awards for Students). To other young artists, Marta stresses the importance of getting involved in school: "It's the best way to meet people and discover things that you didn't even know you could do."