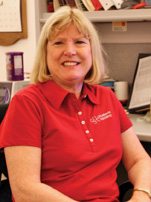 Sue Saunders, Director of Academic Advising and Learning Support Services, attended the Pacific Region 9 conference of her professional group, the National Academic Advising Association (NACADA) in March 2009. During the conference Sue presented "The Student Advising Guide from Orientation and Beyond." The presentation was chosen as the "Best of the Region" by her peers. This award is presented by NACADA to one session at each of the ten regional conferences.
Sue was awarded a stipend to attend the NACADA Annual Conference in San Antonio, Texas, from Sept. 30 to Oct. 2, at which time she was presented with the award before a large national audience of academic advisors and administrators. She was also the recipient of the "Best of Region" award for a previous presentation at the 2006 regional NACADA conference and is the only presenter who has received the award twice during the last nine years. She has also been chosen as Conference Chair for the 2010 Pacific Region Conference.
Sue arrived on the CI campus in 2000 as the founding member of the Advising Center bringing with her the experience of more than 20 years' work in the educational field.