From the Community to the Collection
By Elnora Kelly Tayag, Reference, Instruction & Outreach Librarian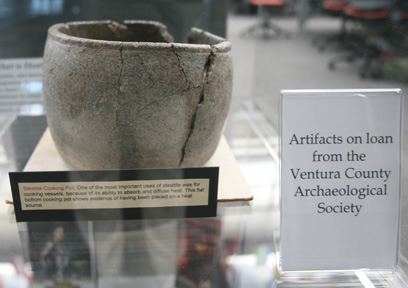 The John Spoor Broome Library has acquired several significant collections from the community that have greatly enhanced the University's collections to support our students and faculty research. These acquisitions were gifted by beloved members of the community to support new programs like Chicana/o Studies and Anthropology, and current programs like Environmental Science and Resource Management, English, and the social sciences.
The Irene and Jorge Garcia Collection
The Irene and Jorge Garcia Collection focuses on the U.S. immigrant experience from all eras and examines disenfranchised groups. Volumes emphasize Chicano Studies as well as other ethnic studies such as Filipino, Armenian, Latin American, German, and Irish. The scope of the collection also includes Chicano popular fiction and over 300 music titles from varying genres like traditional mariachi to contemporary Chilean techno music. This acquisition is a serendipitous opportunity for the Broome Library to build its collection in Chicana/o Studies as well as support the inauguration of the Chicana/o Studies program last year. Dr. Jorge Garcia is a retired faculty member from CSU Northridge's Chicano Studies department and Irene Garcia is a school teacher. They live in Simi Valley. A portion of their collection has been processed with 800 titles currently in the Library stacks.
The Natalie Newberger Collection
The Natalie Newberger Collection focuses on the literary form of short story. This short story collection includes the Best American Short Stories Series, O. Henry Prize Stories, anthologies, short story classics, and compilations by both American and international authors. Originally from Chicago, Natalie Newberger was a professional short story reader with programs all over the country. Her collection was generously donated by her children Steve, Rick, David, and Jill Newberger. Mrs. Newberger's son Rick and his family live in Thousand Oaks and have been very supportive of the Library in making her collection available to the University. Most of this collection has been processed with 300 titles currently in the Library stacks.
The Hindle Donation
Bob Hindle, a geologist and surveyor for California oil companies, donated over 300 books, journals and maps on the region. Most notable are unique regional maps and his original work Ventura Basin Geology Study. Bob Hindle and his wife live locally in Camarillo. Most of the maps are still under copyright and therefore in the University Archives.
Jean Harris Donation
Jean Harris, a local environmental activist, donated all of her papers on local environmental projects, notably the protection and restoration of Ormond Beach Wetlands and the creation of Oxnard State Beach Park. The Harris papers have been submitted to the University Archives with plans to digitize them. This acquisition was instrumental and led to a donation from her friend and colleague, Robert Chianese.
Robert Chianese Donation
Robert Chianese, an active board member of local environmental organizations, donated his papers on the Ormond and Oxnard Beach protection projects. Robert Chianese is an English Professor at CSU Northridge and was also a professor for CSUN at CI when the satellite facility was located on our campus. The Chianese papers have been submitted to the University Archives with plans to digitize them.
Walter Goldschmidt Donation
Walter Goldschmidt, Professor Emeritus of Anthropology at UCLA, donated a significant collection of Anthropology titles that emphasize New Guinea and Africa. This collection is still being processed.