From the Ground Up
By Lori Putnam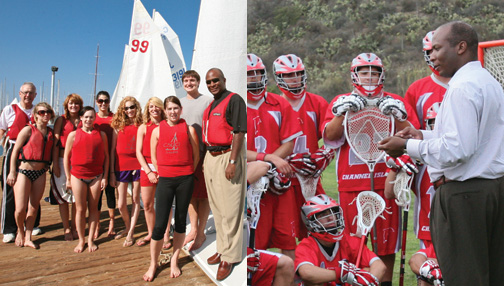 Creating an athletics program from the ground up requires a vision and a plan. Fortunately for Channel Islands, athletic director Carl Reed has both. The former assistant athletic director from Stanford University has opened three major stadiums during his 14-year career, and knows that whether it's a blueprint or a strategic plan, it's important to know what to build in order to be successful.
"I think we're going to set a tone that you probably won't see in other universities. Our plan will be to do and think about things a little differently," says Reed, who assumed the role of the University's first athletic director last spring. "Where most athletics programs seem to operate in a silo, my plan is to infuse the academic mission throughout athletics."
Defining the Student-Athlete
Reed has been true to his word, reaching out to the University community to ensure he hears a variety of views on the role the athletics program should play in the student learning experience.
In the tradition of Channel Islands, he envisions collaborations between the athletics program and the Channel Islands faculty that may result in new interdisciplinary courses on sports psychology, business management of sports, and even how athletic programs impact local environments. He also stresses that student-athletes will meet the same academic standards expected of any CI student.
"We won't sacrifice success in the classroom for success on the field," states Reed. "Academics come first. Our student-athletes will live out the meaning of the word – student first, athlete second." He believes athletics is a natural way for students to strengthen their leadership skills as well.
A Rallying Point
When Reed first visited the campus, in many ways it felt familiar to him. Walking through the small classrooms, he saw immediate similarities to his own alma mater, Saint Mary's College of California. Reed earned both a B.A. in Politics and a M.A. in Health, Physical Education, and Recreation at the small private college in northern California. When he visited Channel Islands, he says, "I felt a sense of being at home."
Now Reed has the opportunity to give his new home what he calls a rallying point. "At the end of the day," he shares, "it's not my program, or Dr. Rush's program, it's the University's program and the community's program. They've been waiting for years for this. We want a program that everyone can support and be proud of."
Looking ahead, he anticipates launching at least two sports by fall 2011. Given the current limitations of sports facilities on campus, the sports that are in consideration include men and women's soccer, cross country, women's volleyball, and men's golf. Ideally, Reed would like to see at least 10 to 12 viable sports programs for Channel Islands, but he knows this won't happen overnight. Just like building stadiums, you need to start with a solid foundation.
"I am a firm believer in aiming high at the risk of missing a few balls, rather than aiming low and hitting everything. We want to make sure our program is top notch, and we're shooting for the stars."