A Time to Change
"Change does not necessarily assure progress, progress implacably requires change. Education is essential to change, for education creates both new wants and the ability to satisfy them." Henry Steele Commager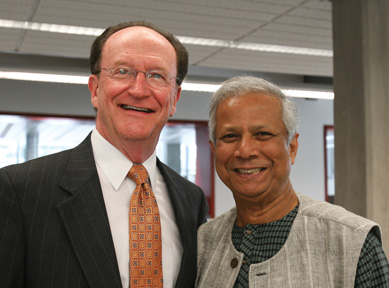 You will notice that your University magazine has a new name – Channel. This change is not only reflective of the University's name, but is defined as a medium of communication, a course or sense of direction, or educational or career path taken. As you will read in the pages that follow, change has affected how the University serves our students, conducts business, and explores new possibilities of things to come.
Over the summer we introduced another change – new logos that will help brand and identify the campus as an innovative and forward thinking University and build upon our reputation of providing quality academic programs for our students.
The University continues to face challenges due to the significant state budget reductions. Subsequently, this change has required that we rethink how we teach, perform research, and provide services to our students. As builders of the future, CI will continue to fulfill our educational promises to students and move forward with innovative spirit in spite of the economic challenges facing our state and nation. Now, more than ever, your financial and political support is needed as we continue our mission to provide the best education possible to our students.
On an exciting note, we look forward to welcoming Dr. Muhammad Yunus to our campus next year – recipient of the 2006 Nobel Peace Prize and recent awardee of the Presidential Medal of Freedom by President Barack Obama. Dr. Yunus and his best-selling book Creating a World Without Poverty: Social Business and the Future of Capitalism will be featured during the annual Campus Reading Celebration on February 26. An example of the innovative thinking at CI, this event will help launch our California Institute for Social Business, designed to change the way we approach world problems and train students to solve these challenges from interdisciplinary perspectives.
In addition, positive changes such as the grand opening of the new Student Union in February will be a valuable resource to our University community. Campus infrastructure improvements continue at a brisk pace as this critical project is slated for completion in December 2010. We are hopeful that we will have approval for our new entry road to the University in the near future.
I hope that you will enjoy reading our newly named publication in which we will continue to share with you the successes and challenges at Channel Islands.
Sincerely yours,

Richard R. Rush
President