President's Dinner
Annual Event Celebrated 50's Style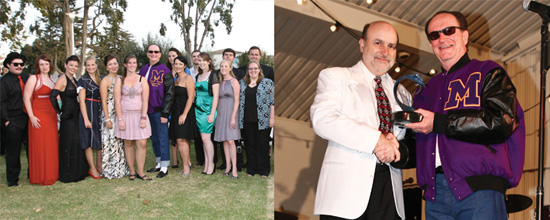 The annual event was celebrated on the campus featuring vintage classic cars and guests wearing 1950s-style attire. The outdoor event, held under the stars in the North Quad of the campus, accommodated over 300 guests who dined on a 50s menu and danced the night away to Ronny and the Classics.
University President Richard R. Rush introduced Wayne Davey as the winner of the 2009 CSU Channel Islands Robert J. Lagomarsino Award. The award, named in honor of the Honorable Robert J. Lagomarsino, a former United States congressman and a longtime supporter of the University, is presented to an individual who has contributed to and supported CSU Channel Islands.
Davey's involvement with the University began in 1999 when he and his wife Barbara became founding members of the President's Circle. Davey served on the CSU Channel Islands Foundation Board of Directors from 2002-2008, and was Chairman of the Board from 2005-2007. Davey was also a co-founder of the University's Business & Technology Partnership that assists the University in developing business and technology programs that will serve the business needs of the county, as well as serving on the University's Biotechnology Program Advisory Board. Davey has worked professionally in the field of electronics and biotechnology in Ventura and Los Angeles counties for more than 10 years and currently serves as the Vice President for Finance and Corporate Controller at Abraxis BioScience, a Los Angeles-based biotechnology/pharmaceutical company.
The evening festivities also included a 1950s cocktail reception, a classic movies silent auction, Elvis, Marilyn Monroe, and Buddy Holly impersonators, and announcement of the European vacation raffle prize winner as Diana Crothers. Additionally, Van Gundy Jewelers, one of the event's sponsors, donated a diamond necklace as a raffle prize with the winner being Dr. Moustapha Abou-Samra of Ventura.
CSU Channel Islands Foundation Board member Linda Dullam has served as Chair of the President's Dinner for the past seven years. Kathy Swor served as designer for the event and silent auction displays.
Title Sponsor – Rabobank
Presenting Sponsor – Bank of America
Gold Sponsor – Van Gundy Jewelers
Silver Sponsors – Harrison Industries, Montecito Bank & Trust, Pratt & Whitney Rocketdyne, Inc., and the Ventura County Star
Bronze Sponsors – Elise and Bill Kearney, City of Oxnard, PCL Construction Leaders, and St. John's Regional Medical Center/St. John's Pleasant Valley Hospital
Wine Sponsor – Opolo Vineyards