Rebranding of the University's logos began a year ago with the idea of creating a formal logo for official University business and a CI logo for students, something with which they could have a life-long affinity.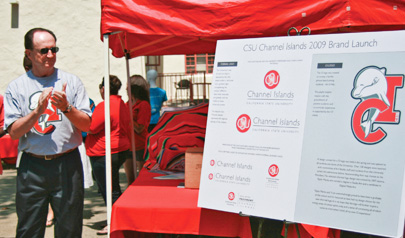 "The University has made significant strides the past seven years in building the campus and stellar academic programs. Branding that achievement was a priority for us this past year. However, in light of state budget challenges, we looked for cost-effective ways the University could re-brand itself as an innovative and forward thinking University and build upon our reputation of providing quality academic programs for our students," said President Richard R. Rush.
With the help of a Hollywood design firm, a solution was found. The formal logo was created by John Ridgway and his company Novocom located in Malibu. Ridgway, who provided his design work pro-bono, has won 14 Emmys and branded Arizona State University, CBS, NBC, Face the Nation, Meet the Press, and Monday Night Football.
The University's new formal core logo is depicted by the CSU letters within a red circle and a gradient light, strengthening the campus' affiliation state-wide, nationally, and globally with the California State University system. The adjacent text 'Channel Islands' represents the regional identity of the campus.
A design contest for a CI Spirit logo was held in the spring and was opened to all students and alums of the University. Over 150 designs were received and a committee of Art faculty, staff, and students from the University juried the submissions before recommending their top choices to the President. The selected logo design was created by 2007 alumna Taylor Marta, who earned a degree in Studio Art and a certificate in Digital Media Art (see page 28 for additional information about Taylor Marta).
The logo was created to convey a familiar phrase heard among students – the CI Way. The playful dolphin mascot with the groundwork of positive academic and co-curricular experience is supported by the 'CI' initials.
Taylor Marta said, "I am overwhelmingly proud to have been a graduate of this school and I'm honored to have had my design chosen as the new CI Spirit logo. It is my hope that the logo will further inspire a strong sense of school spirit, unity, and a sense of community, all of which come to mind when I think of my own CI experience."