Where Theory Meets Practice
By Lori Putnam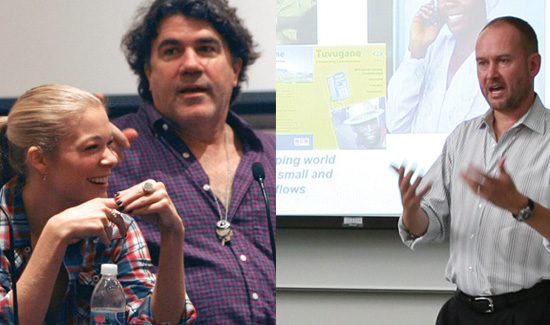 The panel assembled in Aliso Hall represented a who's who in the music industry. As Grammy award-winning singer LeAnn Rimes, music manager Mark Hartley, songwriter Darrell Brown, music producer Ken Caillat, and entertainment agent Gayle Holcomb took turns sharing stories and answering questions, students got an inside view on the making and marketing of a successful album.
"The best learning opportunities are multifaceted," says Dr. William P. Cordeiro, Professor of Management and Director of the Martin V. Smith School of Business & Economics. "And it's always a good thing to have practitioners outside of the University to provide another perspective."
This philosophy helped to shape two lecture series that debuted this fall. One explored the business behind entertainment, the other examined the growing trend of microfinance. Both reflected innovative partnerships between the University and industry leaders to attract prominent professionals to the campus and bridge theory and real-world practice.
Passion, Desire, and Opportunity
Film music supervisor Budd Carr, known for his work on a number of Oliver Stone movies, served as moderator for the music panel discussion featuring Rimes and Hartley. "It's about passion, desire, and opportunity," he shared with the audience. "It's about when it comes, how to seize an opportunity. It's also about failure."
Financing a Brighter Future
Can a few hundred dollars impact a struggling community? Esteemed economist and Grameen Bank founder Dr. Muhammad Yunus thought so and pioneered the use of microloans to fund small businesses to lift millions out of poverty. The Bangladeshi businessman won the 2006 Nobel Peace Prize and was recently awarded the Presidential Medal of Freedom by President Barack Obama in recognition of his efforts.
Today microfinance has sparked the imagination of social business entrepreneurs well beyond the borders of Bangladesh, even to the coastal farmland of Ventura County. Rudy Estrada, Executive Director of the Small Business Institute at the MVS School of Business & Economics, kicked off a series of microfinance lectures at CI by providing students and community members with a local perspective on the issue. Peter Bladin, a founding director with the Grameen Technology Center, was also a featured speaker.
Dr. Ashish Vaidya, Dean of the Faculty, sees these lectures as the first step to establishing a California Institute for Social Business. "The idea behind the Institute is to teach the core concepts as well as help those interested to get their own social businesses off the ground," he says. "Broadly, the goal is to further the knowledge and application of using business approaches to address social problems."
On February 26, 2010, Dr. Yunus himself will visit CI and participate in the University's Campus Reading Celebration that focuses on his best-selling book, Creating a Future Without Poverty: Social Business and the Future of Capitalism.