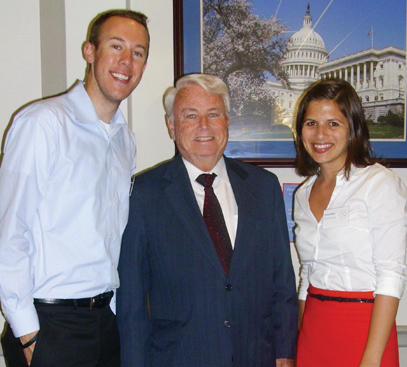 Alumni Shine in D.C. Visit
Alumni Chelsee Bente '09 BA Political Science and Brian McAleney '07 BA Psychology proudly represented CI at the annual Back to College Night in Washington, DC on September 15. Each year 400-500 legislators and alumni attend this event to visit the various California campuses. CI's booth was highly popular thanks to the great energy of our alumni!
Dodgers lose, but Alumni & Friends wins Big
The Annual Alumni & Friends Dodger Day took place on Saturday, September 20 with over 100 students, alumni and friends watching Los Angeles take on the Colorado Rockies at Dodger Stadium. The event started back in 2003 with a generous gift from the Associated Students to the Alumni & Friends Association and is now in its seventh year. "It's become our most popular event and a great time for the CI family to come together to demonstrate that Dolphin pride," said Tania Garcia, Associate Director of Alumni Relations. This year the Alumni & Friends offered to donate a percentage of its sponsorship dollars for the event to start building a student athletic scholarship.

Michael Bredbenner '06 BS Business
Michael has recently taken a position as a Sales Representative for a spine supply distribution company related to Amedica in Ventura County. Amedica manufactures an innovative product which is used in spinal fusion surgeries. His territory will cover the San Fernando Valley, Ventura County, Santa Barbara County, San Luis Obispo and Fresno. Michael is also a co-owner of a manufacturing corporation based out of Oxnard called Sierra Walk-ins, Inc. His interests since graduating have always been in the medical supply sales industry.
Stacey Bullington '10 BA Studio Art
Stacey graduated with a BA in Studio Art. She was recently hired as a graphic designer and merchandising assistant for Conal Trinity Productions and Sauci Creative in Westlake Village. She is also currently starting her own design company, Sable Media, with fellow graduate Jonathan Cunningham. Stacey previously worked in television as a graphic designer for Emmy award-winning design company, Novocom, in Malibu.
Sheree Candelaria '09 BS Business (not pictured)
Working at Citibank for close to four years, Sheree graduated CI with a business degree and was then able to be promoted to Personal Banker. In this position, Sheree assists with all new accounts including personal and business deposit accounts, mortgages, and personal and business lending. She has been a Personal Banker for about one year and hopes to continue to grow with the company.
Tristan Cassel '10 BA Art
Tristan, past Editor of the CI View Student Newspaper was recently hired to do graphic design work with a Calabasas-based company called On Assignment. His work follows his interest in art and his passion for good design. He will be responsible for working on marketing material and Web sites that will be seen internationally.
Vanessa Woodward '08 BA Psychology
Vanessa recently was hired as a social worker for Children and Family Services of Ventura County. She is a Psychology graduate and most recently a graduate of CSUN's Master's Degree in Social Work. In May 2010 she completed her Master's work and by that time had interned as a therapist at a non-public school in North Hollywood and at a public elementary school in Burbank.