Fernando Mora '06 - Paying It Forward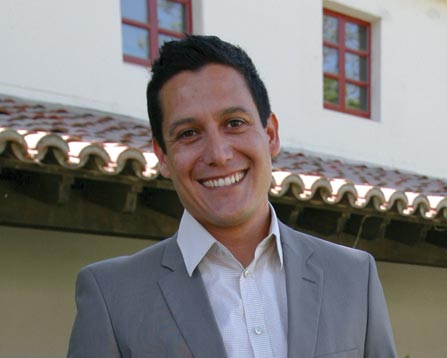 By Lori Putnam
When alumnus Fernando Mora thinks back to his time as a student, his favorite memories center around the relationships he made on campus. First and foremost among those friendships is the one he forged with his future wife, Ivana Medic Mora '06. He recalls their first encounter in class as a decisive one: "We sat down next to each other and that was the end of that." The two Spanish majors married shortly after graduation.
Mora currently serves as director of Sales and Marketing for Sage Network Inc., a Camarillo-based company that provides technical support and services to small and mid-sized businesses. In this role he continues to build relationships, a talent that was recently recognized by the University's Alumni & Friends Association when he was asked to sit on their board of directors.
"I had such a good experience at CI. It has made me who I am, so I hold the University very close to me," says Mora. "When I was asked to join the alumni association, I was honored. The school has given me so much as far as my development as a business professional, and I'd like to do the same for others."
Mora is already giving back to his community. Born in San Diego, he spent his early years living in Ensenada, Mexico, and learned Spanish as his first language. He moved to Camarillo as a young boy and recalls spending many an afternoon at the Camarillo Boys and Girls Club while his dad was at work. Mora describes himself as a quiet child as he learned to speak English, and he appreciates the support and guidance the Club provided him.
When the current chairman of the Camarillo chapter invited Mora to join the board it was an opportunity for him to give back. He hopes to bring more educational opportunities to the Club's activities, including tutoring, technology, and arts programs. He was recently appointed as chair of the Young Professionals Group of the Camarillo Chamber of Commerce as well.
With an eye on earning an M.B.A., right now Mora is enjoying a life filled with business and community connections. On most weekends, he and his wife can be found at the beach in Oxnard with their family of four dogs.