Paulina Kolic '10 - Fighting for the Environment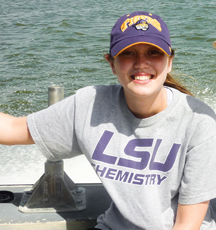 By Lori Putnam
On the evening of April 20, the night sky off the coast of Louisiana lit up from an offshore oil rig explosion that would claim the lives of 11 workers and ultimately unleash nearly five million barrels of oil into the Gulf of Mexico. While many of us would watch the drama of the Deepwater Horizon unfold on television, one CI graduate was there on the front lines.
"It's disappointing to see how the oil has affected the local marsh," observes Paulina Kolic, who graduated last spring with a bachelor's degree in Chemistry, magna cum laude, and is currently pursuing her doctorate from Louisiana State University Baton Rouge. "You can see sea life coated in oil and marsh grass destroyed by the oil."
Stationed in Barataria Bay, an estuary that is the heart of Louisiana's shrimp industry, Kolic is studying how dissolved organic matter has changed since the spill began.
A native of San Diego, Kolic says she always has been partial to environmental causes. As a CI student, she was able to pursue that passion by participating in an independent study monitoring smog levels near campus. "She was always an impressive student," remarks Simone Aloisio, Associate Professor of Chemistry and Kolic's faculty advisor on the research project. "But it's more than just that – she's the kind of person who wants to make a difference and make the world a better place."
While at CI, Kolic pursued summer research projects at Louisiana State University. The first, conducted in the summer of 2008, was supported by the National Science Foundation. Kolic would return the following summer as part of a Howard Hughes Medical Institute grant to develop a method to detect hydroxyl radicals. These experiences made LSU a natural choice for her doctoral study.
Kolic hopes her research coupled with her environmental goals will lead her to a career with the Environmental Protection Agency. Her current research in the Gulf is poised for publication. "Hopefully we'll have a positive impact," says Kolic. "Maybe we'll be able to sway people away from oil and gas."
She is one of an estimated 23,000 people still working on clean-up efforts in the Gulf. The spill is estimated to be 15 times the size of the Exxon Valdez oil spill in 1989.