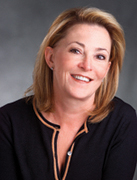 By Julia Wilson, Vice President for University Advancement
What a challenging year for fund-raising! The economic downturn was certainly a factor and with budget cuts from the State, the University Advancement division experienced diminished staff and resources. Challenging, yes. Daunting, no. We had a record year and I am extremely proud of the dedication of a small but mighty staff. There were many small victories, but highlights include closing a private/public partnership with Cottage Health System for $6 million over the next 10 years to expand our nursing program in Santa Barbara; grant awards from the Conrad N. Hilton Foundation, Verizon Foundation, and the Mike Curb Family Foundation; gaining the international spotlight through the launch of the California Institute for Social Business; increasing service to our ever-growing number of alumni; and completing phase one of our re-branding efforts.
The Advancement staff is amazing. But we all know that we could not have been as successful without the tireless work of our growing ranks of volunteers. We added new board members to the CI Foundation Board, brought a group of influential women together to start the CI Women's Circle auxiliary, and expanded the list of advisors in various programs. New supporters were added to our eAdvocacy program – resulting in CI sending more letters to legislators than any other CSU campus.
Our volunteers never say "no" when asked to make introductions or advocate for CI with legislators. Whether it is work on the President's Dinner, the Dolphin Golf Classic, the Business & Technology Partnership Leadership Dinner, or the CI Women's Circle events, volunteers spend countless hours making sure these activities are successful and elegant. Then, of course, there are committee meetings, retreats, assorted luncheons – we ask a lot of them and they do not disappoint. When there is an immediate financial need, someone always steps up. When we need guest speakers for our classes or introductions to key community and corporate leaders, we know who to turn to.
Without our loyal volunteers, we simply could not have weathered the past year – many, many thanks to them all. University Advancement looks forward to another banner year for funding and building community relationships.