Culturally Competent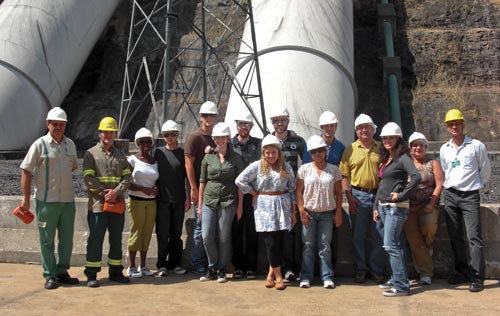 By Lori Putnam
From the Far East to down under in New Zealand, and in countries throughout Europe and South America, CI students can complement what they learn in their classroom with week and month-long visits to international destinations. These faculty-led learning experiences are one of the many offerings provided through the University's Center for International Affairs.
Last year the Center sent 120 students abroad, helping to expand their global perspective and strengthen their culture competency in an increasingly international marketplace.
"We make sure the trips have a solid academic foundation," says Antonio Jiménez-Jiménez, Associate Professor of Spanish and Director of the Center. "We review the learning goals and course content before the international experience." A trip to Paris, for example, may focus on art with visits to world-class museums and participation in studio classes, while other trips involve a language immersion component.
Jiménez-Jiménez, who was born in Malaga, Spain, has led his own student trips to Spain and Mexico. Alejandro Robles, a senior majoring in Economics, had the opportunity to visit Spain and Morocco as part of his study abroad experience. "It was an opportunity to improve my Spanish language skills and learn more about the culture of my ancestors," says Robles. In particular, he found Morocco to be interesting. "It was a completely different culture than any other Western or Western European city."
The travel costs associated with the study abroad programs are offset in part by the Instructionally Related Activities fund. This allows the international experience to be accessible and affordable to all CI students, particularly those who would not normally consider travelling outside the U.S.
Growing Global Citizens
In addition, the Center serves as a link for international students at CI to expand their own cultural knowledge of the U.S. Currently there are 30 international students on campus, having traveled from as far as China, Brazil, Kenya, and Romania. From visiting local sites and museums to experiencing American traditions such as Thanksgiving dinner, these students have a number of opportunities to learn more about their host country.
Internationalizing the student experience at CI is at the heart of the Center's mission. Looking ahead, Jiménez-Jiménez would like to see the number of international students on campus increase, as their presence also contributes to the overall diversity of the campus experience for students who are unable to travel internationally. He also hopes to expand the University's exchange agreements with institutions abroad.
"I cannot think of a student graduating from any institution without having an understanding of how things work globally," adds Jiménez-Jiménez. "Companies look for students with cross-cultural knowledge and communication skills. But even more important, when students go abroad they grow as global citizens. They are exposed to different perspectives and get to understand their own culture better."