Educating the Next Generation of Nurses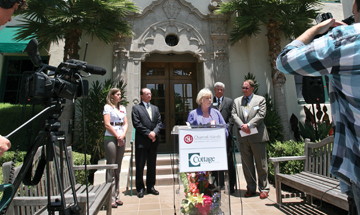 By Lori Putnam
The U.S. will face a shortage of more than 260,000 registered nurses by 2025, according to the American Association of Colleges of Nursing. And as nursing programs nationwide attempt to fill the gap with new graduates, CI has entered into its own innovative public/private partnership with Santa Barbara-based Cottage Health System to offer Central and South Coast residents a pathway into the nursing profession.
The idea of the partnership first took hold eight years ago when President Richard Rush approached local chief executives regarding their interest in bachelor's programs.
"The expectation by the state legislature that CI pay its own way coincides with my own philosophy that a public university has to exist in the context of public and private partnerships or it can't be successful in the 21st century," says President Rush.
The Power of Partnerships
One executive in particular, Cottage Health System CEO Ron Werft, immediately recognized the need for a local nursing program for residents of Santa Barbara and the surrounding areas. After CI launched its Bachelor of Science Nursing (BSN) program in 2006, the two leaders met again and subsequently articulated a partnership that would allow up to 22 students annually to enroll in an off-site cohort nursing program.
The CSU Channel Islands Nursing Program at Cottage Health System will begin its first class in Spring 2012 in a facility adjacent to Goleta Valley Cottage Hospital, a member of the not-for-profit Cottage Health System.
"We have 300 individuals in Santa Barbara on waiting lists," says Werft, referring to the current lack of openings in local nursing programs. Cottage Health System currently participates in a successful partnership with Santa Barbara City College to offer an Associate Degree in Nursing program. The new program with CI will offer students the opportunity to earn their bachelor's degree in less than three years.
According to Karen Jensen, associate professor of Nursing, CI offers the only bachelor's in nursing program on the California coast between Ventura and San Francisco. The program will be facilitated through CI's Extended University, with Cottage Health System funding three full-time tenure track faculty for 10 years. "The curriculum is a replica of the curriculum in Camarillo," says Jensen, "but students will do all the clinical work in Santa Barbara." The majority of that clinical work will be conducted at Cottage hospitals.
Building for the Future
"Without a strong nursing program and a strong medical staff you don't have a high quality hospital," says Werft. "We know that nurses from the Central Coast who decide to practice their profession at Cottage stay with us 22 years on average. Those who are out-of-state stay, on average, just four and a half years. It makes sense for us to invest in local education," he adds.
The Cottage Health System network of hospitals provides inpatient care for 21,000 people, treats 66,000 ER patients, and delivers 2,600 newborns on average in the greater Santa Barbara area.
As part of the agreement, Cottage Health System will also provide for the on-site facility in Goleta. It includes 60,000 square feet of classroom space along with plans for a simulation lab to provide students valuable hands-on experience with high-tech mannequins before they begin their clinical rotations.
The program is pending accreditation by Western Association of Schools and Colleges (WASC), Commission on Collegiate Nursing Education (CCNE), and the California Board of Registered Nursing.