The Faces Behind a Bittersweet Harvest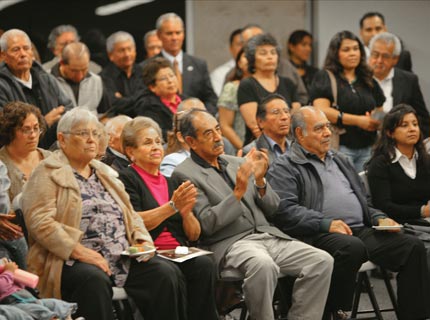 By Lori Putnam
When Samuel Zuniga interviewed Francisco Paz as part of a course assignment capturing the stories of local braceros, the CI student had no idea that the chapter of history he would capture would be his own. "The first question we ask is where the person was born," recalls Zuniga, who graduated with a degree in Chicana/o Studies last Spring. "He mentioned his town, but we didn't make the connection until he began to ask me questions about my last name and my parents. Then his eyes lit up."
At first Zuniga was concerned he had said something wrong. It was just the opposite. Paz had known Zuniga's grandparents, and had actually been present the day Zuniga's grandfather proposed to his grandmother -- a woman of such beauty that she was compared to the town's prized rose bush.
"I had never heard that story before," says Zuniga, whose grandfather died a year before he was born.
A Partnership with the Smithsonian
Zuniga was one of a number of CI students who contributed to a nationwide exhibit sponsored by the Smithsonian Institution entitled "Bittersweet Harvest: The Bracero Program, 1942-1964." The Mexican Farm Labor Program, created to address a wartime labor shortage in agriculture, would become better known as the Bracero program.
"Oxnard had one of the largest bracero programs in the U.S.," says Pilar Pacheco, Assistant Director of the Center for Community Engagement and a key liaison between the University and the Smithsonian. Of the nearly five million braceros who came to the U.S., at least 20 percent were contracted to work in Ventura County.
The CI exhibit, "The Braceros of Ventura County," reflects the collaborative efforts of Chicana/o Studies majors like Zuniga as well as students from the Spanish, History, and Art programs under the guidance of University faculty including Jose Alamillo, Associate Professor of Chicana/o Studies. According to Alamillo, more than 70 interviews were conducted and ultimately 10 were highlighted in the exhibit in both English and Spanish.
A Night of Memories
"I was deeply proud that the University partnered with the Smithsonian to put this exhibit together," says President Richard Rush. "For me to meet the original braceros was a moving moment. We were well served by these guest workers who came from Mexico at a time in our nation's history when we needed agricultural workers."
Nearly 20 ex-braceros attended the unveiling of the exhibit in the Broome Library. Now in their 70s and 80s, many of them were accompanied by family members and more than 300 members from CI and the surrounding community. Artifacts included a pair of field worker's gloves, lemon fruit clippers, and a short hoe which would have resulted in hours of a worker bent over among the crops. Art displays captured a bracero's typical journey from a Mexican village to the U.S. border and then into the fields of Ventura.
Alamillo hopes that visitors to the exhibit appreciated the rich agricultural legacy left behind by these men. He also hopes projects like this one illustrate the importance of capturing oral histories. "You learn not only about others, you can learn about yourself."
CSU Channel Islands would like to thank the following individuals who participated in the Bracero History Project and generously shared their time and stories with our students. We honor your legacy and contributions that have helped shape and enrich the identity of the United States and Ventura County:
Encarnacion Alamillo, Francisco Angeles, Manuel Aparicio, Enrique Arellano, Rodolfo Balderama, Roberto Borrego, Samuel Camacho, Jose Carmona Oliva, Aben Carranco, Maria Carrillo, Maria Collier, Roberto Cordero, Celdonia Corral, Erasmo Corral, Rafael Cortez, Guadalupe Duran, Celedonio Galaviz, Felix Gallegos, Ezequiel Garcia, Porfirio Garcia, Genaro Garza, Antonio Nuño Gonzalez, Fernando Gonzalez, Jesus Guzman, Raul Hernandez, Juan Lupian, Francisco Macias, Santa Maria Madera, Elias Magaña, Alfredo Manzo, Daniel Molina, Isaias Muro, Emiliano Paz, Francisco Paz, Samuel Perez, Alfredo Ramirez, Emiliano Ramirez, Celestino Rangel, Porfirio Rico, Maria Robles, Domingo Romero, Eugenio Romero, Luis Avila Ruiz, Juan Salcedo, Eduardo Saldaña, Rosario Sanchez, Ramiro Soliz, Jesus Perez Torres, Amado Vazquez, Luis Zamudio, Ben Zapata, Isamael Zepeda, Feliciano Zurape