A Laboratory for the Arts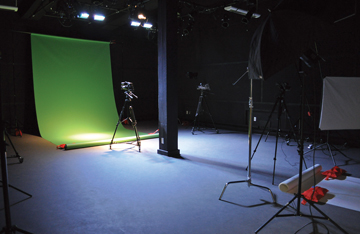 By Lori Putnam
Mike Curb's reputation as a legendary songwriter, producer, and record executive spans almost 50 years and includes eight GRAMMY awards. For many California residents, he's also recognized for his leadership role as the former lieutenant governor and acting governor. Yet for CI students and faculty, Curb may now be best recognized for his generosity in support of a growing academic interest in the entertainment industry, which includes a new cutting-edge studio that bears his name.
"My hope is for this to be a laboratory for the students who are studying music, business, and the arts, and to help them develop the necessary skills to get jobs," said Curb, whose current roster of recording artists include Wynonna Judd and Tim McGraw. "We believe this state-of-the-art facility will create educational opportunities that will hopefully enhance the learning experience for these students."
The Mike Curb Studios, located in a renovated wing of Napa Hall, is the result of a gift from the Mike Curb Family Foundation to help fund the renovation and purchase of state-of-the-art equipment. Located adjacent to art and animation classrooms, the Studios include a fully equipped production studio and sound room. An editing and production suite gives students additional tools for film and video editing and animation cell recording. A 24-seat classroom completes the Studios, and allows students to observe live productions in the production studio next door.
"This facility puts us on the map and raises the profile of our related arts and media programs," says Chair of the Art Program and Professor of Art Jack Reilly. "It's a positive step in the direction we've already been working toward to create strong relationships between the University and the entertainment industry."
Mark Hartley, who serves as chair of the University's Entertainment Studies Advisory Board and was recognized this year with the Robert J. Lagomarsino Award, attended a recent ribbon-cutting ceremony alongside Mike Curb and his family, President Richard Rush, and Professor Reilly. Said Hartley of the opening, "I see today as the beginning. Now students have the opportunity to come here and create, and not be limited by anything."
The Mike Curb Studios also allows for videoconferencing among other CSU campuses for the sharing of faculty and industry professional resources.