A Plan for Growth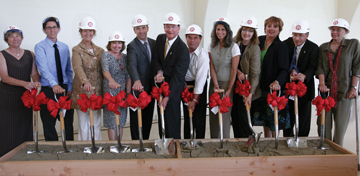 By Lori Putnam
Over the last three years, the Channel Islands campus has experienced significant growth in infrastructure. With the opening of the John Spoor Broome Library in Spring 2008, followed by the Martin V. Smith Center for Integrative Decision-Making opening in Spring 2009, and this year's addition of the new Student Union, the new construction has been essential to meeting the University's growing faculty and student body.
The momentum continues this Fall with the ground breaking of a new North Hall facility. North Hall will be a combination of adaptive reuse of 49,500 square feet of existing space and an estimated 28,700 square feet of new construction. The project is estimated to cost $32 million and will include a new lecture hall and flexible classroom space that can be used for a case study format or more traditional seating. The new building will be located directly north of University Hall and will line the southern end of the campus North Quad.
According to President Richard Rush, campus growth is possible in spite of current economic and state budget challenges due to advance planning. "We have been good stewards of the resources we've been given," he observes. "Four years ago we set aside reserves in anticipation of difficult times ahead."
In addition to the new lecture hall, North Hall will also include 115 faculty offices and more than 70 computer lab stations. Small seating areas have been included in the Los Angeles-based CO Architects design to encourage more interaction among faculty and between faculty and students. The architecture firm has completed projects in the past for Claremont McKenna College, Scripps College, and UCLA.
As has been the case in previous construction projects, facility improvements will focus on energy efficiency including the use of special lighting and glazing on the windows. Landscaping will feature low water-use, drought tolerant plants.
"This is the largest construction project planned for the near future," says Deborah Wylie, former Associate Vice President of Operations, Planning & Construction. Wylie has played a leadership role in guiding campus construction over the last six years. Wylie left CI in mid-October to join the University of California Office of the President as Associate Vice President of Capital Resources.
"I will truly miss the wonderful friendships and colleagues I gained at Channel Islands," adds Wylie. "The collaborative campus spirit has been essential in developing projects and facilities to meet the program needs at a growing campus."
The University expects North Hall to be finished in time for the start of classes in the Fall of 2012.
Upcoming Projects
A new entrance road to campus is slated to open Summer 2012. The road will connect to the county's new Lewis Road bridge and provide for a more direct access to the center of campus. The four-lane road addition will also include an adjacent pedestrian bridge.
Design work for a proposed West Hall is also under consideration. The project, which like many campus projects will be a combination of adapting existing structures with new construction, will allow for much needed faculty offices as well as additional classroom and lab space to support seven academic disciplines including geology, computer science, physics, and environmental science.