Free Radicals Take Shape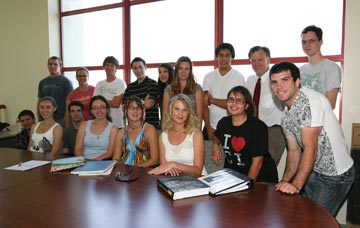 By Lori Putnam
No, they're not political activists. With a name like Free Radicals, it's easy to make that assumption of this CI science club. And while no one among the current club leadership can quite put their finger on the name's origin, it's a safe bet that it has to do more with electrons and protons than protest signs and riot gear.
"It's a play on words," says club president Ashley Bonneau. "I've been asked about our political aim, especially since our club logo is a fist grasping an organic compound."
The Free Radicals got their start in Spring 2006 under the leadership of Professor of Chemistry Philip Hampton and Dr. Simon Garrett. Dr. Hampton had previously served as the advisor of a chemistry club at the University of New Mexico and used fundraisers like selling lab books to sponsor activities such as student attendance at national conferences. He thought the same could be done at CI.
Then last October the Free Radicals became involved with the local community by hosting a science carnival. With a goal to provide elementary students with fun experiences with science, the event drew 500 people. Dr. Hampton credits Bonneau and her fellow club officer, Mary Grabiak, with turning his idea into reality.
"I realized the carnival was a success when we were greeted with shouts of, 'I love science' after one of our demonstrations," says Bonneau, now a senior majoring in biology with a minor in chemistry. "That's what we're about – loving science."
Last Spring Bonneau was named a Goldwater Scholar. The prestigious award, named in honor of former U.S. Senator Barry M. Goldwater, is given to college students pursuing careers in math, natural science, and engineering. She is CI's first Goldwater Scholar, and the only student from the CSU system to receive the honor this year.
As club president, Bonneau hopes the Free Radicals will encourage more undergraduate research opportunities through informal mixers with faculty. In the meantime, she extends an open invitation to the CI community to attend a club meeting. "You don't have to be a science student," says Bonneau. "You just need to have an interest or question about science." And chances are a Free Radical will have an answer for you…or at least have fun solving the equation.