A Decade of Memories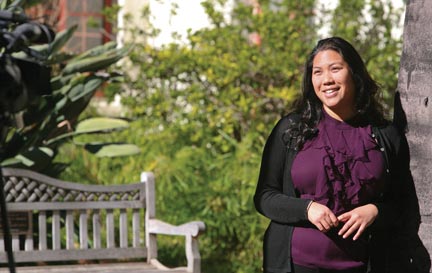 By Lori Putnam
It was March 2001 when Ginger Reyes first visited the new Channel Islands campus. It would still be one year before the new University opened and another two years before the inaugural freshman class would arrive. As she drove up the meandering entrance that is University Drive, Reyes recalls wondering if she was going in the right direction. Nearly a decade later, she can answer that question in more ways than one.
"I am so fortunate to love what I do and the people that I work with," says Reyes, who as Director of Admissions & Recruitment oversees the University's admissions process including undergraduate and graduate marketing and recruitment. "This is a great place to work." The University was named this year as a "Great College to Work For" according to a survey by The Chronicle of Higher Education.
However, when asked to describe a significant challenge working in college admissions today, Reyes quickly replies having to tell students that they cannot attend CI because of ongoing budget limitations. Strict deadlines have been imposed in order to fairly accommodate students who have met all admission requirements. "I constantly tell students, and their parents, to prepare – be prepared, and be informed. All students have to do is ask. Understand the process and be prepared for admission," says Reyes. "We assist students through the entire process so they don't get lost, that's the difference between CI and other universities. We tell them that staff is available and we want to help."
With the state's recent budget adoption, good news was received from the Chancellor's Office that with partial funding restored to the CSU, Channel Islands could accommodate 400 new students for the Spring 2011 semester including students seeking a second baccalaureate degree. The priority application filing period for the Fall 2011 semester ends November 30.
Reyes describes her workplace as having a family feel, something it has been able to maintain as the Division of Student Affairs has grown from 12 to nearly 80 staff members. She has grown right along with her department, beginning as an outreach and transfer services counselor in 2001 and assuming more responsibilities as coordinator of recruitment, associate director, and then department director. "One of the beautiful things that CI has afforded me is the opportunity to move up. I have been fortunate to hold various positions at CI."
Ultimately, Reyes, who is pursuing her Ed.D. in Organizational Leadership at Pepperdine University, hopes to assume a position of Dean or Assistant Vice President of Enrollment. She says it's hard to think about her life without CI, and enjoys cultivating close relationships with her staff similar to the close ties she shares with her family. She is the middle child of three sisters.
"I'm very close to my family," says Reyes, who is originally from San Diego. She adds: "The way I am with my family, I treat my staff the same way. We may have good days, and we may have bad days, but we're still family."
One of the benefits of family? Fresh baked cookies. Reyes, a self-confessed foodie, is known to bring in chocolate chip cookies to her office in Sage Hall. "The staff get the fruits of my labor," Reyes says with a chuckle.