Moving Forward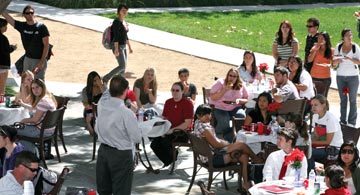 If everyone is moving forward together, then success takes care of itself. Henry Ford
Despite the late adoption of a state budget and the ongoing economic challenges faced by our state and nation, CI is committed to excellence and innovation and continues to find ways to move forward at a remarkable pace!
We are extremely thankful that legislators partially restored funding to the CSU so your University may continue to meet the demand for new student enrollment and provide a high quality education that will enable our students to become tomorrow's workforce and leaders for our region, state, nation and world.
As I shared with students and as you will read in the pages that follow, CI's on-going progress has included developing innovative partnerships to offer business and nursing programs within the Santa Barbara area; the groundbreaking for North Hall that will provide much needed classrooms and laboratory space for students and faculty; the renovation of Napa Hall and a ribbon cutting for the Mike Curb Studios in order to expand our successful Art program; and the successful completion of the campus' infrastructure project that renovated a 70-year-old system to one that will serve us for the next century.
We eagerly look forward to celebrating a groundbreaking this month for a new entry road that will improve access to the main campus with a new four lane road along with native landscaping that will welcome visitors to the University. It will create additional wetland areas that will provide educational and research opportunities for students, faculty, staff and visitors to understand the local environment we inhabit.
The campus also enthusiastically greeted our first Fulbright Scholar-In-Residence, Dr. Susanne Brüggen, an educational researcher who has published on the sociology of death and dying. A German national, Dr. Brüggen will teach a variety of undergraduate courses as well as give public lectures during her first visit to the United States.
I hope that you will enjoy reading these and other stories included in this publication and wish you and your family a safe and delightful holiday season.
Sincerely yours,
Richard R. Rush
President