Sustainability at CI - An Update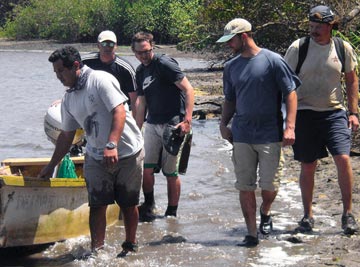 By Ashish Vaidya, Dean of Faculty*
The campus, which is a charter participant in the Sustainability, Tracking, Assessment, and Rating System (STARS) ranking sponsored by the Association for the Advancement for Sustainability in Higher Education (AASHE), is gathering baseline data in three main categories: Education & Research; Operations; and Planning, Administration & Engagement. STARS provides a self-reporting framework for colleges and universities to gauge progress toward sustainability and be recognized for sustainability leadership.
As a first step in earning points in the Education & Research category, the Sustainability Task Force in consultation with faculty defined sustainability at CI and how that relates to research.
The next step involves identifying our sustainability focused or related course offerings, immersive experiences, learning outcomes and assessment of sustainability in the curriculum, and faculty and student sustainability research.
CI has offered four sustainability immersive experience courses over the past year. Environmental Science and Resource Management (ESRM) 492 Trip to New Orleans is an interdisciplinary program designed for students interested in environmental topics. It provides education and exposure to both scientific and human aspects of environmental issues. The work portion of the trip involves working on wetland restoration projects in Belle Chase's Woodlands Trail and Park, one of the few remnant bottomland hardwood forests surrounding Greater New Orleans.
University 392 Mexican Mangroves and Wildlife offers a one of a kind experience for students in La Manzanilla, Mexico. Students are engaged in the collection and release of Olive Ridley sea turtles, mist netting and banding birds in dry tropical forest, and water quality monitoring in nearby Estero El Chorro.
Students enrolled in University 392 Technology in Japan study Japanese horticulture, the atomic bomb, earthquakes, the Kyoto Protocol/climate change, "green" building design, the shinkansen (bullet train), and heavy industry/manufacturing. Students also interact with science professors and graduate students at Kyoto University in Japan.
Lastly, CI offers Biology/Political Science 345 Climate Change and the Arctic National Wildlife Refuge. In Alaska, students investigate evidence of the impacts of climate change and study the vegetation, wildlife, and geology from a wilderness base camp on the Kongakut River. Students also tour the Prudhoe Bay oil fields on Alaska's north slope, talk with residents of the Gwich'in community of Arctic Village and the Inupiat village of Kaktovik, hike in the boreal forest, and visit the University of Alaska Fairbanks.
*At the time of printing this publication, Ashish Vaidya had departed CI to accept the position as Provost at CSU Los Angeles.