Summer Institute Fosters Future Research Scientists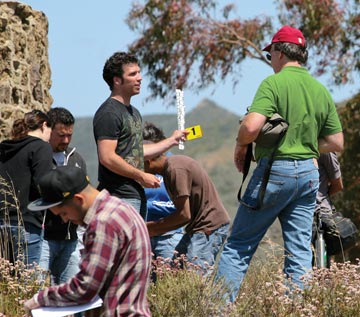 By Philip Hampton, Professor of Chemistry
Getting students excited about learning is one of the most rewarding aspects of being an educator. Far too often, students view professional programs like premedical as being their only option if they are interested in science. As instructors, we often have to combat long-held student beliefs that the sciences are too difficult or too boring to consider for a career.
That's where the OC/CI HSI-STEM Summer Institute, developed through a partnership between Oxnard College and CSU Channel Islands and funded by a Department of Education grant, is helping to make a difference. The Hispanic Serving Institution Science, Technology, Engineering and Mathematics (HSI STEM) grant was awarded to Oxnard College to promote the STEM disciplines to under-represented and low income Oxnard College students. Under the leadership of Oxnard College grant director Cynthia Herrera, CI created an institute to host Oxnard students during the summer.
The size of the Summer Institute grew substantially from 26 students in the first year to 60 this past summer. The students were split between two courses: BIOL 335 Biosphere, a lecture class taught by Professor Simone Aloisio, and CHEM 343 Forensic Science, a lecture-lab class taught by me and 2010 CI graduate Sameh Helmy. The Biosphere course featured guest lecturers in the fields of biology, geology, and environmental science and integrated content from across these disciplines as it relates to the earth's ecosystems. Guest lecturers from the Ventura County Forensic Science Laboratory enriched the content of the Forensic Science course and provided background on their work along with examples from real crime scenes.
Bianca Terminello, who graduated last year from Oxnard College and is now a Chemistry major at CI, participated in CHEM 343. "I was very surprised at how creative it was," she says. "Everyone went out of their way to make us feel welcome too."
In the laboratory component of CHEM 343, we presented students with mock crime scenes from which to collect evidence to analyze. One of the crime scenes involved a poisoning and traumatic injury leading to the death of the fictional Professor Hightower. We created the crime scene in collaboration with the CI Police Department. Students had the opportunity to learn about finger printing, evidence collection, and toxicology. A second mock crime scene was an arson fire scenario designed in collaboration with Dan Preston, Training Captain of the Ventura County Fire Department. Ventura County arson investigators assisted the students in collecting evidence at the scene which they later analyzed for chemical accelerants.
One of the most exciting aspects of the Summer Institute was having the opportunity to see students grow through their research experiences and develop a sense that they really could perform research in the sciences.