Tall Ship Adventure: CI research class sets sail to the Channel Islands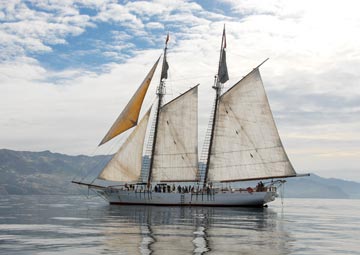 By Christopher Cogan, Assistant Professor of Environmental Science & Resource Management
How do you combine environmental science, biology, oceanography, and geography research while working and living onboard a traditional tall-ship sailing vessel? That's what 60 students discovered as part of CI's four-week Summer Institute Research Program. As a joint project with Oxnard College, freshman and sophomore students interested in science, technology, engineering, or mathematics (STEM) had the opportunity to participate in a scientific cruise in the Santa Barbara Channel. The two-day research trips entitled "Spatial Variability of Marine Phytoplankton in the Santa Barbara Channel" were led by professors Christopher Cogan and Uta Passow. The Summer Institute was directed by Phil Hampton, CI Professor of Chemistry.
Sailing aboard the 136 foot tall-ship schooner Bill of Rights, students set sail from Channel Islands Harbor conducting a series of oceanographic measurements while en route to Prisoners Harbor at Santa Cruz Island. Aside from working the ropes to haul and trim sails, class participants measured oceanographic data to determine spatial distributions of phytoplankton – the tiny plant life that forms the base of the food-web in marine systems. Measures of fluorescence in the ocean and imaging of the microscopic phytoplankton provided rapid indications of phytoplankton concentration and health. Determinations of physical oceanographic parameters such as temperature, salinity and oxygen also revealed critical environmental growth conditions. Using global positioning systems (GPS) to record station and track data, students then combined the oceanographic and spatial data into a geographic information system (GIS) to begin analysis of the data en route. In a series of top-deck evening discussions, topics addressing plant physiology, photo system fluorescence, and hyper-spectral satellite image analysis rounded out the hands-on research activities of the day.
Special events – working in less controlled environments – are part of the field experience. As researchers and crew on a sailboat we experienced this first-hand. Wind and weather, chance encounters with wildlife, and special challenges were part of the research class. During an evening lecture on satellite imagery, a pod of hump-back whales came within 20 feet of the ship. Having the lecture up-staged by a spectacular 30-minute whale display became a great opportunity for flexible teaching and learning!
Through the combined experience of hands-on science, discussions and lectures, whale-watching, hiking on Santa Cruz Island, and (for a brave few) climbing the rocking rigging 60 feet above the deck the motto for the journey was "the adventure of science." We hope to be able to offer this class again so more CI students can experience the adventure of science at sea – in our backyard laboratory called the Santa Barbara Channel!