Great College to Work For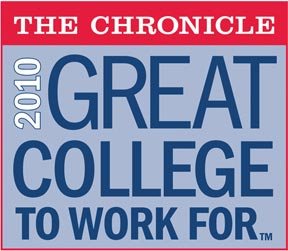 CI was named one of the best universities in the nation to work for, according to a survey by The Chronicle of Higher Education. The results were based on The Chronicle's third-annual report on "The Academic Workplace," which included a survey of more than 42,000 employees at 277 colleges and universities.
In all, only 97 of the 277 institutions achieved "Great College to Work For" recognition for specific best practices and policies. Results are reported for small, medium, and large institutions, with CI included among medium campuses that have between 3,000 to 9,999 students. CI was recognized in the category of Collaborative Governance. The primary factor in deciding whether an institution received recognition was the employee feedback.
CI Partners with Santa Barbara City College
CI and Santa Barbara City College (SBCC) established a partnership to offer CI's Bachelor of Science Business program at SBCC.  The Business program, offered through CI's Martin V. Smith School of Business & Economics, will begin in fall 2011 at SBCC pending approval of the site from the Western Association of Schools and Colleges.
The five-year agreement calls for CI to retain responsibility for both the academic and administrative aspects of the program while SBCC will provide classroom space, office space, and library use as well as cooperate in student recruitment and information sessions. A cohort of up to 30 students can take one or two courses per 12-week term on Saturdays at SBCC.  In addition, SBCC transfer students who meet CI's criteria will be automatically granted admission into the program.
Math and Science Teacher Scholarships
Thirteen students at CI were announced as recipients of the Math and Science Teacher (MaST) Scholarships funded by the system-wide effort of the CSU Chancellor's Office Math and Science Teacher Initiative.  A total of $31,000 in scholarships was awarded to students who have committed to become math or science teachers in grades K-12.
Students eligible to apply for a scholarship are post-baccalaureate students in the pre-credential program or single subject program who are seeking a secondary math or science credential, or multiple subjects students and practicing teachers who have subject matter competency in math or science and wish to add on a single subject credential.
Winners of Math Scholarships: Allison Fredrick, Danielle Hartley, Robert Humphrey, Heather Jacobs, Rana Kalaj, Rosa Monoy, Rachel Neumann, Kevin Prendergast, and Jenee Wilcox.  Winners of Science Scholarships: Elizabeth Harrell, Heather Martin, Alice Overton, and Kelly Vergeer.
Amgen Scholarship
A graduate scholarship for $65,000 has been received from Amgen for the MS in Biotechnology and Bioinformatics program and the MS in Biotechnology/MBA dual degree programs. The scholarship will be used to provide financial assistance to graduate students wishing to enter the biotechnology field.
CI students pursuing the two professional science master's (PSM) programs have the opportunity to study scientific principles and knowledge underlying the rapidly advancing field of biotechnology and will learn sophisticated lab techniques in research and development.  They will be exposed to legal and intellectual property issues and learn the skills and knowledge important in business and bioentrepreneurship.
Research Experience for Undergraduates
A $354,978 grant from the National Science Foundation has established a Research Experience for Undergraduates (REU) at CI.  Twelve undergraduate students will work with faculty members as they explore the world of mathematical research in an eight-week residential summer program cooperating with the faculty and students of the Universidad Autónomo del Estado de Hidalgo in Mexico.
The REU program is targeted for students who might not otherwise have considered mathematics as a career choice and has a special focus on students from under-represented groups, women and minorities and a special emphasis on students who are Spanish speaking or are first generation college students.
Fulbright Scholar-in-Residence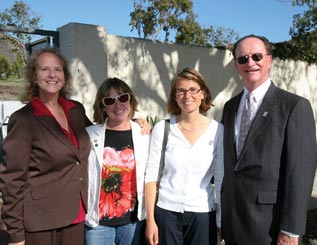 The campus has welcomed Fulbright Scholar-in-Residence Dr. Susanne Brüggen, an educational researcher who has published on the sociology of death and dying, for the 2010-2011 academic year.  A German national, Brüggen will teach a variety of undergraduate courses and give public lectures during her first visit to the United States. 
Fulbright awards are given to individual scholars from American universities to teach and do research abroad at an international university. The Fulbright Scholar-in-Residence Program allows selected American universities to host a scholar from another country by applying for a very competitive grant funded by the U.S. Department of State.
Student Support Services
CI received a $1.1 million, five-year Federal TRIO Student Support Service grant. Federal TRIO Programs include Upward Bound, Talent Search, and Student Support Services – thus the term TRIO. CI met the stringent program requirements which mandate that 56% of its students meet the eligibility criteria for TRIO programs.
The goal of CI's Student Support Services (SSS) program is to increase retention and graduation rates of low-income, first-generation college students by providing academic, financial and guidance assistance to ease the transition from high school to a successful post-secondary school experience. 
Grant for Stem Cell Technology and Laboratory Management
A $1,755,906 grant from the California Institute for Regenerative Medicine (CIRM) was awarded to CI to support an emphasis in stem cell technology and laboratory management within the MS in Biotechnology and Bioinformatics program offered through Extended University.
The grant provides funding for student internship stipends, scholarships and comprehensive lecture and laboratory courses. Students graduate from the program with cutting-edge training and practical experience in their fields, enabling them to enter the workforce in the rapidly expanding biotech sector and stem cell research field. Students accepted into the program receive a stipend of $35,750 to cover living expenses, tuition, and travel costs to conferences. Ninety per cent of the grant-funded students from the class of 2010 had received one or more job offers before graduation.  Almost all of these same students were included or will soon be included as authors for scientific papers.
California Institute for Social Business
CI received a three-year, $300,000 grant from the Conrad N. Hilton Foundation for the new California Institute for Social Business (CISB) at CI. This is the first gift to CISB and will be used to begin laying the foundation for staff building, curriculum development, and defining research.
Dr. Muhammad Yunus, Nobel Peace Prize Laureate and founder of Grameen Bank, was the originator of the concepts of microcredit and social business as means to eliminate poverty among the poorest of the poor.  He will participate in the strategic direction of the Institute, the first of its kind in the nation.
Steven M. Hilton, President and Chief Executive Officer of the Foundation, has a long-standing relationship with Yunus and is very supportive of  his groundbreaking work in microcredit and social business. Yunus has served as a juror for the foundation's annual humanitarian prize, the Conrad N. Hilton Humanitarian Prize.  CI awarded the first Yunus Social Innovation Medal to Hilton, presented by Yunus, last March at a ceremony launching the CISB.
For more information on these University news stories, visit https://www.csuci.edu/news/newsreleasesarchive.htm