Smarter Ways to Connect: AIT offers technology to enhance the 21st century needs of CI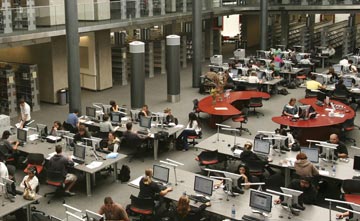 By A. Michael Berman – Chief Information Officer
Providing information technology to the dynamic community that is Channel Islands is an exciting challenge. For most of our students – the digital natives – technology is the sea in which they've been swimming for years, and they expect it to just be there, like air and pizza. For most of the faculty and staff – digital immigrants – technology is new, occasionally threatening, and ever-changing. At Information Technology Services (ITS), it's our job to provide information technology that works for everyone and supports CI's mission as a University with students at the center of everything we do.
Fortunately, we have a talented and creative group – quite a few of whom are CI graduates. Despite very tight budgets, they've figured out ways to expand the technology available on campus and, where they can, make it easier to use at the same time.
Consider, for example, myCI, first introduced to campus just a year ago and already familiar to everyone as the "place" to go to get what you need online. Just by signing in once with your Dolphin Name, you can check your Dolphin Mail, register for a class with CI Records, access research databases through the library, check your Dolphin Files, and use CI Learn to find your latest class assignment. This is much simpler than connecting to five different services with five different user names and passwords.
And if you're a student, you can count on keeping Dolphin Mail even after you graduate. By migrating to Google's email service, the University is able to provide email for students and alumni, customized to CI's specifications.
When the campus needs to contact everyone quickly, it can use the new CSUCI Alert service, which can call you on your phone, send you a text message or an email. You can decide how and where you want to be contacted by going to myCI.
Inside every building, students and employees can connect wirelessly to the campus network – and not just from laptop computers, but from smartphones and tablets and even game consoles.
The staff of AIT is always looking for ways to do things "better, faster, and cheaper." For example, every CSU campus needs to have expertise in information security so we can protect personal information. CI has collaborated with a multi-campus consortium to create a Virtual Information Security Center, making it possible to get the security services we need at a fraction of the cost of building our own independent staff of experts.
By making things easier, faster, and cheaper, technology can free up faculty and staff to provide the personal attention that is the CI way.