Social Business Workshop Educates
By Dennis Muraoka, Interim Dean of Fine and Liberal Arts, Sciences and Professional Schools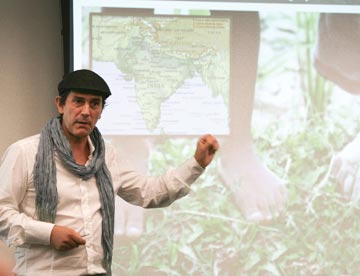 In August, the California Institute for Social Business (CISB) played host to Mr. Hans Reitz, the CEO of Grameen Creative Labs. Mr. Reitz is a trusted colleague of Nobel Peace Prize Laureate Muhammad Yunus, and, along with Professor Yunus, is a leading expert and proponent of social business. He provided a workshop that was tailored for CI faculty and staff to educate them on social business principles. Mr. Reitz provided many examples of successful social businesses. The workshop was an important next step in the development of CISB.
The workshop was well attended by CI faculty with Professors Sean Anderson, Julia Balen, Maria Ballesteros-Sola, Minder Chen, Sunghee Choi, John Griffin, Andrea Grove, Beth Hartung, Linda O'Hirok, Brian Rasnow, Paul Rivera, Don Rodriguez, Dennis Slivinski, Hugh Warren, and John Yudelson in attendance. Professor Grove will serve as the faculty director of CISB. In addition, many CI academic staff and administrators attended the workshop including Provost Dawn Neuman, Associate Provost Renny Christopher, Dean and Associate Vice President Gary Berg, Interim Dean Dennis Muraoka, Associate Vice President Steve Lefevre, Senior Associate Dean and Director of the Martin V. Smith School of Business & Economics William P. Cordeiro, Associate Dean Dan Wakelee, and Support Coordinator Mary Devins.
What is social business?
A social business is a new type of enterprise that exists to address a social concern. Unlike a traditional business enterprise, its primary motive is not profit. Indeed, social businesses do not distribute profits in the form of dividends to investors. Instead, they address social concerns by providing products and services for those in need at the lowest possible prices, or by providing those in need with employment or ownership in a business that allows them to share in its profits. A social business is traditional in its management. Its workforce consists of paid employees and it does not rely on volunteers. It does not rely on charity. Although a social business does not distribute profits to investors, like any other business, a social business must not incur losses. In this important sense a social business is sustainable.