Young Author's Fair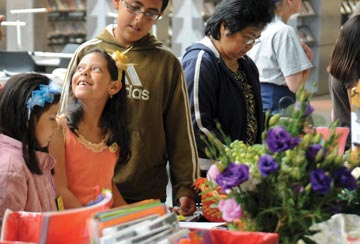 By Elnora Kelly Tayag, Librarian & Outreach Coordinator
Next spring the Ventura County Reading Association (VCRA) will be celebrating its 34th annual Young Authors' Fair. The VCRA reaches out to kids, teachers and school districts all over Ventura County promoting literacy and creativity through authorship. The Young Authors' Fair invites K-12 students to submit an original book in fiction, nonfiction, prose, and poetry. Books also include original illustrations and covers, and are submitted to the Fair by their supervising teacher.
Teachers include the annual Young Authors' Fair in their lesson planning and classes in addition to their regular curriculum to promote literacy and a love for print culture. Every year these dedicated teachers arrive early to set up beautiful displays of books featuring their students. VCRA and teachers encourage students and families to participate and attend the Fair to celebrate the joy of reading.
During the Young Authors' Fair, families and kids are engaged in listening, reading quietly, and reading aloud to one another. Kids are filled with a feeling of accomplishment, excitement, and pride when they see their books being read by families and kids young and old at the event. The most powerful part of the Young Authors' Fair is kids promoting literacy to other kids.
VCRA's goal is to instill the love of reading, writing, and creativity, and every book is awarded a seal of recognition for each young author's participation. The Young Authors' Fair is free and children have the opportunity to meet published authors and illustrators and ask questions about their ideas for stories, favorite books, and inspiration for writing.
At the 2010 Young Authors' Fair 1,275 young authors representing 13 local school districts submitted original books. The VCRA hopes to recruit more young authors and teachers to participate in next year's event.
Since 2005 the VCRA has partnered with the John Spoor Broome Library to create the annual "Children's Reading Celebration & Young Authors' Fair." Next spring writer, poet, and tadpole rancher Kristine O'Connell George, author of Fold Me Poem, will be the featured guest for the 6th annual event on April 9, 2011 at CI.