Class Is In Session for MA in Education Graduate - Cathy Lasure '09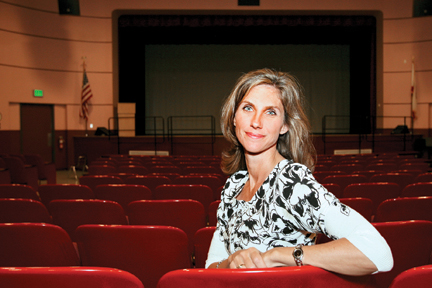 By Lori Putnam 
For most students, being called to the principal's office is not a reason to celebrate. However at Walnut Canyon Elementary, located in the foothills of Moorpark, an invitation to the principal's office may mean something altogether different. 
"I love being able to interact with students," said Cathy Lasure, the school's newly appointed principal and a 2009 graduate of CI's Masters of Arts in Education program. "I invite students to my office for lunch so they don't think this is just the place for getting in trouble." 
Although this is her first year as principal, Lasure is no stranger to Walnut Canyon. She was on the teaching staff when the arts and technology magnet school first opened in 1998. That year, recalled Lasure, the school lacked a permanent building so classes were spread throughout the region. The next year the school moved into its current facility, and Lasure stayed on board as a third grade teacher. 
"Elementary school is my love. It just gets me right here," said Lasure, pointing to her heart. "The students are fresh and creative. It really hits a spark with me." 
The arts are another source of inspiration, and her goal is to continue to support her teachers and students in using them to learn and thrive. "The arts give students another way to problem solve and to use their critical thinking skills," she said. 
Currently Walnut Canyon teaches more than 530 students, from preschool through fifth grade. The school also offers an afterschool cultural arts program where students can enroll in classes ranging from sewing and ceramic to podcasting and filmmaking. The cultural arts program even staged its own musical where students managed everything from the stage lighting to performing the music live. "The kids never stop amazing us," said Lasure. "The talent that we have at our school — both teachers and students — makes us lucky." 
Lasure is also part of the talent of Walnut Canyon. Just months after completing her graduate degree at CI she was approached by the school district to apply for a principal position. Prior to graduation, she had also served part-time as a public relations representative for the district to build awareness of magnet school programs. 
As a classroom teacher, Lasure encouraged her students to learn from their mistakes. "I would tell them you could try it, and if doesn't work, try something else." Now as a school principal, she offers the same encouragement and support to an even greater learning community. The result is a magnet school that is truly preparing its students to thrive in the 21st century.