From Getting By to Giving Back - Jonny Lopez '10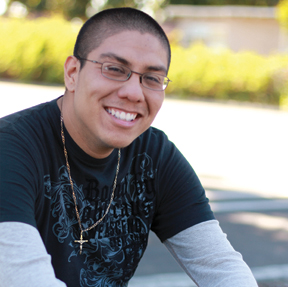 By Lori Putnam 
As an aspiring screenwriter, CI graduate Jonny Lopez will tell you any good story begins with a challenge confronting the hero. In the case of Lopez's life story, that challenge began at the age of three when his mother was left on her own to raise him and his twin brother. 
"She never gave up on us," he recounted. "It's probably the single most important thing that I carry with me today. She sacrificed so much to make sure that we had every opportunity that she didn't have." 
When Lopez was 11 his mother accepted a job as a housekeeper in Malibu in the hope of providing her boys with a better life. What she didn't anticipate was the cultural divide that would confront her sons as they transitioned from a working class neighborhood near downtown Los Angeles to the highly affluent coastal enclave. For the first time in his life, Lopez had a greater understanding of what his family had…and what they didn't. The usually outgoing young boy began struggling to make friends. 
At this point in any good screenplay, the hero would encounter a helpful guide to show him the way through his obstacles. For Lopez, that mentor arrived in the form of the Boys and Girls Club of Santa Monica which had recently opened a satellite facility in Malibu. He spent three to four hours a day at the Club while his mother worked. During his time there, Lopez remembered visits by Oscar-nominated screenwriter William Nicholson and actors Daniel Stern and Mel Gibson. 
At the age of 14, Lopez and his brother won the Club's national Youth of the Year award and his passion for the organization grew. "The Club had taken care of me, and many of the staff members were like father figures," said Lopez. "I knew then that's what I wanted to do." He was now ready to move beyond just getting by to helping to give back. 
Just days after receiving his undergraduate degree in English, Lopez spoke at the Club's Youth Celebration gala. At the end of the evening, he was offered a position as a teen outreach coordinator. Today he serves as the Social Recreation Director for the Club's Santa Monica facility. In this role, he's helping guide a new generation of kids including teaching a screenwriting course. 
"There's nothing quite as rewarding as seeing smiles on the kids' faces," observed Lopez. Ultimately he would like to earn a doctorate degree and teach film while continuing to write. "I believe we transform a lot," said Lopez, "and that our future changes with each transformation. We need to settle on the type of adult we want to be before we can be happy with our choices."