IGER holds first economic forum in Santa Barbara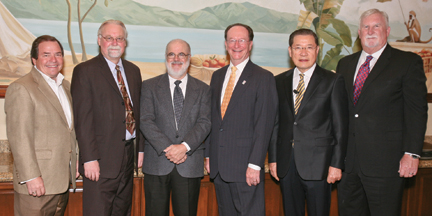 Left to right: Eloy Ortega, Bank of Santa Barbara; Gary Zimmerman, Senior Economist, Federal Reserve Bank; Dr. William P. Cordeiro, Director of Martin V. Smith School of Business & Economics; CI President Dr. Richard Rush; Dr. Sung Won Sohn; Steve Cushman, Santa Barbara Region Chamber of Commerce. 
Our nationally renowned economist, Dr. Sung Won Sohn, Endowed Professor in the Martin V. Smith School of Business & Economics and Director of the Institute for Global Economic Research (IGER), recently presented "Global Economy Impacts on Regional Business" in Santa Barbara. The forum was held in collaboration with the Santa Barbara Region Chamber of Commerce and was sponsored by The Bank of Santa Barbara. 
"We are like a spider web," Sohn said at the Santa Barbara forum with over 150 attendees. "What happens overseas does affect you, and in part because of that our jobless rate is very high, we're not creating jobs, small businesses cannot get loans and cannot generate income so they are laying people off." He said a short-term fix includes economic stimulus funding, while spending and tax cuts could bring more corporate money back to the United States. 
In terms of Santa Barbara County, Sohn said the good news lies in the tourism sector, single-family home sales and the high-tech sector. 
Sohn, a former Wells Fargo economist, was named by The Wall Street Journal as the most accurate economist in 2006 and among the five top forecasters in the country in 2010. Sohn currently serves as a commissioner for The Port of Los Angeles and is Vice Chair of the Board for Forever 21. CI's IGER was launched in April and aims to more closely link local companies to the Pacific Rim countries and develop future industry leadership by providing international perspectives to students and the community.