Twelfth-Annual President's Dinner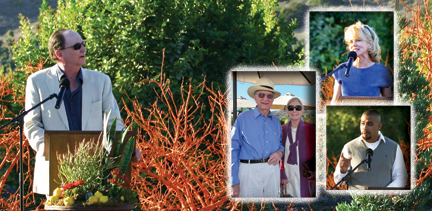 Guests enjoy "Una Bella Sera (a beautiful evening) in the historic orchards of Limoneira Ranch
More than 350 community and campus members celebrated the twelfth-annual President's Dinner al fresco at Limoneira Ranch in Santa Paula. The highlight of the evening was the presentation of the prestigious Robert J. Lagomarsino Award to the Martin V. and Martha K. Smith Foundation and the Smith Family (see Smith Family Legacy at bottom). 
Guests enjoyed a five-course gourmet feast in the warm, breezy afternoon sun. Fine wines were created exclusively for the event. Unique live and silent auctions, including the Stand-Up for Students pledge, helped raise more than $119,000 to support the University's highest priority needs.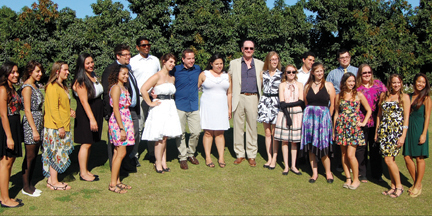 The evening was emceed by Actress Linda Purl, and CI Alumnus Josue Magaña '11 gave a heartfelt speech telling of his benefit from and support of student scholarships.
The University gratefully acknowledges the President's Dinner Committee, chaired by Artist Kathy Swor and the generous sponsors who helped make the evening possible:
Title Sponsor: Rabobank 
Platinum Sponsor: Bank of America 
Silver Sponsors: Harrison Industries, Montecito Bank & Trust, and Van Gundy Jewelers 
Bronze Sponsors: Aera Energy, LLC, Canteen Coastal of California, Elise & William Kearney, SAGE Publications, Pacific Coast Business Times 
Wine Sponsor: Malibu Family Wines 
Beer Sponsor: Duke of Bourbon-Canoga Park, Michelob Ultra, and Shock Top 
Power Sponsor: Go Green Mobile Power 
Invitation Sponsor: V3 Data Print Mail 
Special thanks to Carla and Harold Edwards, Limoneira, Randy Churchill, Baron Brothers, Kathy Raffelli, Gary Blum, Chef Jason Collis, Ryan Nasalroad, Judy Linton, Stephen Mason, and Roxie Ray.
The Smith Family Legacy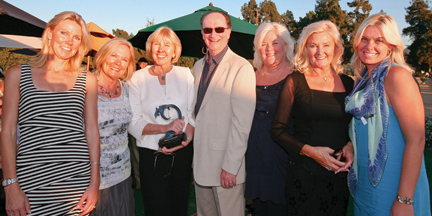 Top: Robert J. Lagomarsino Award recipients - Stacy Cannon, Victoria Pozzi, Antoinette Gardiner, President Richard Rush, Marjorie Tegland, Lucinda Daley, and Tiffany Tegland 
Martin V. "Bud" and Martha K. Smith were known for their philanthropy and support of the community by funding education causes, including the creation and development of CSU Channel Islands (CI). Their instrumental role in the growth of the CI led to the creation of many of its programs. The Smith family named the Martin V. Smith School of Business & Economics at CI and their gift built the Martin V. Smith Center for Integrative Decision-Making as well as endowed the MVS Professorship of Economics which is now held by Dr. Sung Won Sohn. The Foundation also provided funding that was essential to launching CI's Institute for Global Economic Research. 
Prior to their passing, Bud and Martha Smith established the Martin V. and Martha K. Smith Foundation within the Ventura County Community Foundation. Since 1994, this foundation has funded nonprofits in Ventura County through an annual grant program. The family's philanthropic and active community participation did not stop with Martha and Bud Smith as their four daughters, Antoinette Gardiner, Marjorie Tegland, Victoria Pozzi, and Lucinda Daley, now continue the work of the foundation and the Smith family legacy. Pozzi and Daley have served as active CSU Channel Islands Foundation Board directors, and all four daughters continue to support CI.